Breyer Longhorn Bulls For Sale
Below are Breyer Texas Longhorn bulls and related items for sale on eBay. The bulls are made by Breyer Animal Creations, and there are several different versions, or model numbers, of the bull, each with its own unique look. Breyer also made a Brahma bull. For more information about the Breyer Longhorn bull please scroll down.
Below: The Breyer Texas Longhorn bull: Model #75. This is one of the first Longhorn bulls Breyer produced.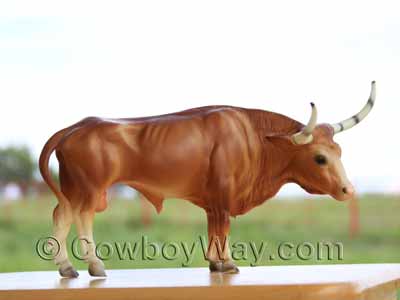 ---
See more Breyer Longhorn bulls on eBay
---
About The Breyer Longhorn Bull
The Breyer Texas Longhorn bull was made by Breyer Animal Creations (<<<this link will open in a new window). We say "was" because the bull is not currently being produced. When they were being manufactured Breyer made several different versions, or models, of the Longhorn bull.
Over the years Breyer Animal Creations has become world famous for its much-loved model horses. At different times, Breyer has produced models other than horses, including dogs, cats, deer, and more, including the Texas Longhorn bull.
Below: Another look at the same Breyer Longhorn bull seen at the top of this page.
Below is a photo of the stamp, or maker's mark, on the bull shown in the images on this page. Over the years the stamp Breyer has used has changed, so not all stamps will look like this one.
Below: The Breyer stamp high up on the inside of the left hind leg of the Breyer bull shown above.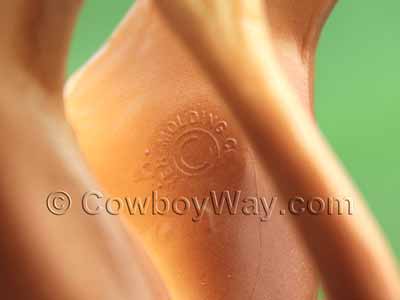 Breyer Resources
If you're curious about Breyer Animal Creations and the beautiful models they make, here are a few websites we like that might help you out.
You Might Also Like...
Model Horses
Link To This Page
If you found this page useful or interesting and would like to link to it from your own website or blog, you can use the small code snippet below to make a link. Thanks!
Use ctrl+C in Windows or command+C on a Mac to copy the link.
<a href=""></a>
---
Below: Like and share this page on Facebook!