Cowboy Canvas Wall Art
Below is cowboy canvas wall art for sale on Amazon.com. You will find canvas artwork from David Stoeckein, Frederic Remington, and more. Please scroll down for more information on canvas wall art.
You might also like Horse Canvas Wall art and Custom Canvas Wall Art.
Below: A Longhorn cow on gallery wrap wall art.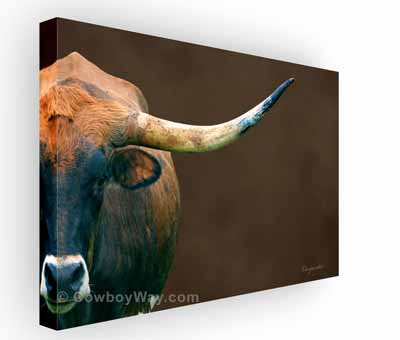 Please note: While most of the artwork below is canvas wall art, some of it is not. Please check the item's description carefully to make sure it is canvas wall art.
---
Comparison Shop Canvas Wall Art
Below is canvas wall art featuring cowboy or Western scenes for sale on Amazon and eBay.
From Amazon
---
From eBay
See more cowboy canvas wall art on eBay
---
More Western/Cowboy Canvas Wall Art

Flowering Deer Skull - Western Floral Artwork - Rustic Canvas Wall Art Home Decor

Premium Thick-Wrap Canvas Wall Art Print - Cowboy On Horse Trying To Lasso Wild Horses
Our proprietary canvas provides a classic and distinctive texture. It is acid free and specially developed for our giclee print platforms. Each premium canvas gallery wrap finished with a closed back preventing dust collection inside the back of the wrap. The back includes a pre-installed, ready-to-hang sawtooth hardware. Our stylish framed wraps also come with pre-installed hanging hardware built into the frame, along with felt protective bumpers.

Canvas Print Wall Art - Running Wild Horses Galloping In Dust - 3 Piece Panel
---
About Canvas Wall Art
Canvas wall art is what is sounds like: Art work on canvas suitable for displaying on a wall.
Some canvas wall art, however, is a bit different. While it is still artwork on canvas, it might also be what is commonly called "canvas gallery wrap," "gallery canvas wrap," or simply "gallery wrap" art. Gallery wrap is a way of stretching painted or printed canvas around wooden or plastic bars so that the bars are entirely covered and therefore invisible to the viewer. This gives the artwork an attractive depth, like a shallow box, with the sides usually being a continuation of the image (either an actual continuation, or a shallow reflection of the art as it approaches the sides). If the sides are not a continuation of the image they are typically a solid color that compliments the art. The thickness of the sides of canvas wall art varies, but somewhere between 1/2 inch to 1 3/4 inches is common.
With gallery wrap a frame and/or matting is not necessary or used. Gallery wrap art provides a clean, attractive, look whereby the viewer's attention is drawn solely to the art. The texture of the canvas contributes a gently textured, realistic look to the image.
Gallery wrap art is typically very lightweight making it easy to hang almost anywhere, including areas where conventional framed artwork would be too heavy. In addition, since the canvas is stretched over the front and sides of the hidden bars beneath, but not the back, the back of the gallery wrap is hollow. This allows it not only to be hung on smooth walls, but also on walls that have blemishes that might cause framed artwork to bulge or hank crooked. The hollow back of the gallery wrap also allows it to cover other items on a wall that may not be aesthetically pleasing, such as a breaker box.
---
Save The Canvas Art For Later
If you find a piece of canvas wall art for sale that you like but you're not ready to purchase it right away, you can always add it to your shopping cart so it will be easy to find later.
In most cases, Amazon will keep track of your wall art, and anything else in your shopping cart, for 90 days.
Later on, if you decide you don't want the item(s) after all, it's easy to click "delete" and remove them from your cart.
In the meantime, if you want to check out with other items, click "Save for later" to move the cowboy art to a separate, but still easy-to-find list beneath your shopping cart.
Important: Putting items in your Amazon shopping cart or "Save for later" list does NOT reserve them! It just makes them easier to find if they're still in stock when you come back.
Below: Screenshot image showing the "delete" and "Save for later" links when an item is in the Amazon shopping cart.

---
---
You Might Also Like...
Canvas Art
Cardboard Cutouts / Standups
Horse Posters
Murals
Tapestries
Link To This Page
If you found this page useful or interesting and would like to link to it from your own website or blog, you can use the small code snippet below to make a link. Thanks!
Use ctrl+C in Windows or command+C on a Mac to copy the link.
<a href=""></a>
---
Below: Like and share this page on Facebook!