Cowboy Posters
Below is a wonderful selection of cowboy posters and art prints for sale from various sellers across the web. There are both new and vintage posters to choose from.
A few of the posters are framed, but most of them aren't. There are also posters and art on canvas. We also have a page of original paintings featurings cowboys.
Below: A famous painting by renowned cowboy artist Charles M. Russell (1864-1926). It's title is "A Bad Hoss" (1904). Russell created some of the most beloved cowboy art of all time. This one is available as a poster on Etsy.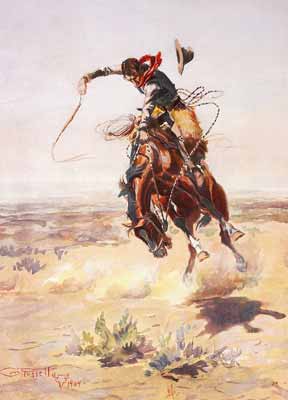 ---
From eBay, Etsy, and Amazon
See more cowboy posters on Etsy
See more cowboy posters on eBay
---
More Cowboy Posters
Below are more cowboy posters available from Amazon.

Beautiful cowboy poster/art print by cowboy artist Tom Ryan.
This Tom Ryan classic, "Sharing An Apple," is digitally printed on archival photographic paper resulting in vivid, pure color and exceptional detail that is suitable for any museum or gallery display.

Grace and the Grey by Lesley Harrison
Artist Lesley Harrison captures the beauty of horses and the love of a child in this mesmerizing painting. The little girl in her lilac-colored dress gently brushing the grey horse is a contemporary, timeless classic.

Ghost Town by Tom Ryan
Beautiful colors and delightful use of theme, light, and shadows make this another Tom Ryan classic. This high quality, affordable print is digitally printed on archival photographic paper resulting in vivid, pure color and exceptional detail.

Cowboy Puppy by Robert Dawson
The giclée printing process makes this touching Robert Dawson piece come to life before your eyes. Fine art reproduction on high quality art paper.

John Wayne on the set of "The Cowboys.".
Photographer Bob Willoughby is credited for originating the movie set still photo. He captured this iconic image of John Wayne during the 1972 filming of the classic John Wayne movie "The Cowboys."

River Crossing I - A classic Robert Dawson cowboy photograph /art print.
This vivid image is printed on the highest quality art print poster paper.

Boots and Spurs
Beautiful colors contrasted with the subtle color of the fence draws this viewer right into this cowboy art print.

Cowboy Up by June Dudley
A lush landscape, rustic fence, and young cowboys draw you into this classic by June Dudley.
---
Cowboy Poster and Art Print Terms
Art Print - An art print is a precise, high quality reproduction of a work of art.
Limited Edition Print - A limited edition print is a reproduction of an original work of art. It is signed and numbered by the artist, and the total number of prints is limited to a certain number. Limited edition prints can be offset lithographs, digital prints, or other types of reproductions.
Lithograph - A lithograph is an art print made by using a lithographic press. The resulting prints are considered original prints.
Offset Lithograph - An offset lithographic is a photomechanically reproduced image. They are not made by made by using a lithographic press.
Poster - A poster is a printed paper for hanging on a wall or similar surface. They are frequently reproductions of artwork. Posters are usually printed in large or unlimited quantities.
You Might Also Like...
Canvas Art
Cardboard Cutouts / Standups
Horse Posters
Murals
Tapestries