Ultimate Banana Bread
Here at CowboyWay.com some of the best banana bread we've ever tasted comes from a recipe developed by America's Test Kitchen.
They call it their "Ultimate Banana Bread." This delicious banana bread isn't dense or gummy like some recipes, but instead is moist, cake-like, and has a nice strong banana flavor. It's great with or without the optional nuts.
Below: Two slices of Ultimate Banana Bread (recipe by America's Test Kitchen).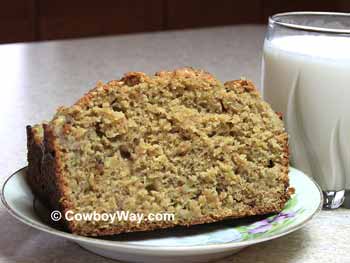 The "secret," although it's not much of a secret, to the light texture and strong banana flavor in this recipe is to extract liquid from the bananas, reduce it so the bread won't be too wet or heavy, then put the concentrated banana liquid back into the recipe.
It's easy to do and the payoff is really flavorful banana bread with great texture.
Used with permission: Special thanks to America's Test Kitchen (<<< this link will open in a new window) for allowing CowboyWay.com to share their recipe here.
Ultimate Banana Bread Ingredients
Makes 1 loaf of banana bread.
America's Test Kitchen recommends using a loaf pan that is 8 1/2″ X 4 1/2″.
A 9" X 5" pan can also be used, but the cooking time should be reduced by approximately 5 minutes.
1 3/4 cups unbleached all-purpose flour
1 teaspoon baking soda
1/2 teaspoon table salt
5 large, very ripe (lots of big, black spots on them) bananas
1/2 cup (1 stick) unsalted butter, melted and cooled slightly
1 teaspoon vanilla extract
2 large eggs
3/4 cup packed light brown sugar
1/2 cup walnuts, toasted and coarsely chopped (optional)
For The Top
1 large banana
2 teaspoons granulated sugar
Instructions
Arrange an oven rack to the middle position.
Preheat oven to 350 degrees Fahrenheit.
Whisk flour, baking soda, and salt together in a large bowl and set aside.
Place 5 large, very ripe bananas into a microwave-safe bowl. Cover the bowl with plastic wrap, then poke the top of the plastic wrap several times with a knife to create holes to release steam. Microwave the bananas on high until they are soft and have released liquid, about 5 minutes. Note: Instead of microwaving the bananas you can freeze them ahead of time and catch their juices (as described in step 5) as they thaw.
Transfer the bananas to a fine-mesh strainer placed over a bowl and allow them to drain, stirring occasionally, for about 15 minutes (or until completely thawed if you're using frozen bananas). When the bananas have drained, there should be about 1⁄2 to 3⁄4 cup of liquid (or sometimes even slightly more).
Pour the banana liquid into a medium saucepan and cook over medium-high heat until it is reduced to 1⁄4 cup. Remove the pan from heat and pour the reduced liquid back into the bowl with the bananas. Mash the liquid and bananas together with a potato masher until they're mixed back together and the bananas are fairly smooth.
Whisk the butter, vanilla, and eggs into the bowl with the mashed bananas. When mixed, add in the brown sugar and whisk until it is completely dissolved.
Pour the banana mixture into the flour mixture and stir together until just combined. Do not over stir! Some streaks of visible flour remaining is fine. If you're using walnuts, gently fold them in now.
Pour the batter into a prepared (sprayed with non-stick cooking spray) loaf pan.
Slice the remaining banana diagonally into 1⁄4-inch-thick slices. Lay the slices on top of each side of the pan, leaving a gap in the center so as not to interfere with the rise of the loaf. Sprinkle granulated sugar evenly over the top of the loaf including the sliced banana.
Place the loaf pan on the middle oven rack and bake until a toothpick inserted into the center comes out clean, 55 to 65 minutes (or 45 to 55 minutes if using a 9" X 5" pan). Rotate the banana bread halfway through baking time.
Cool the banana bread in the pan on a wire rack for 15 minutes, then remove the loaf from the pan and allow it to continue to cool on the wire rack.
Serve warm or at room temperature.
---
Banana Bread Photos
Banana bread wet ingredients: Walnuts (optional), very ripe bananas, brown sugar, eggs, butter, and vanilla.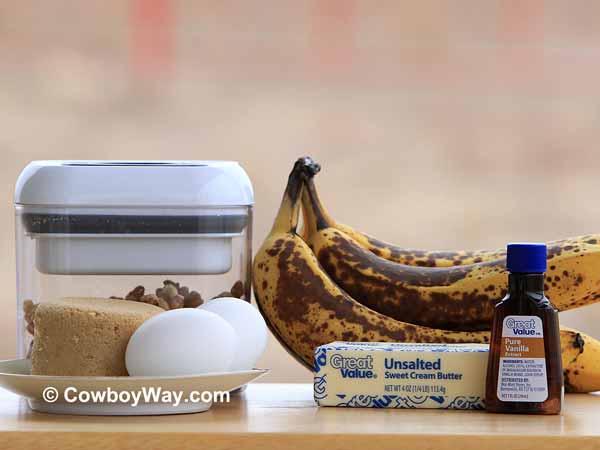 Banana bread dry ingredients: Flour, salt, and baking soda.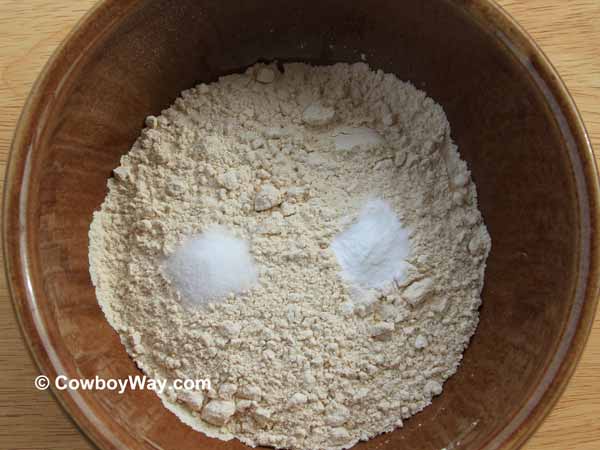 Ingredients for the top: One banana and sugar.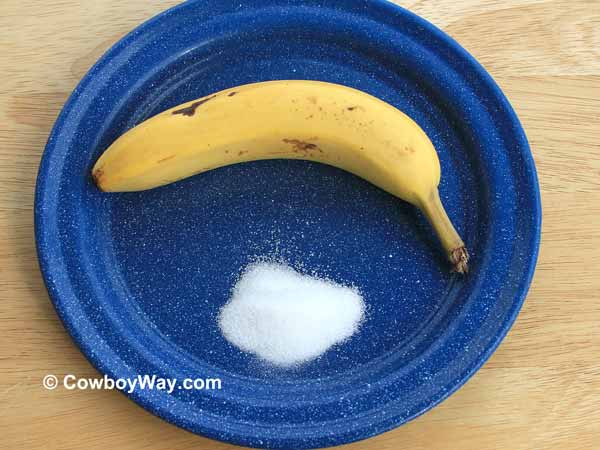 Five very ripe bananas ready to be microwaved. Be sure to poke vent holes in the top of the plastic wrap to release steam while microwaving.
After they've been microwaved drain the liquid off of the bananas. Give them an occasional stir. Right now the bananas aren't pretty, but they sure smell great.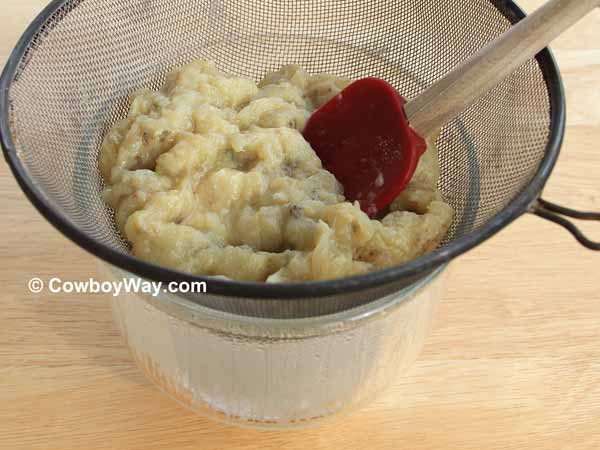 After the microwaved bananas have drained you have banana juice that you reduce in a saucepan......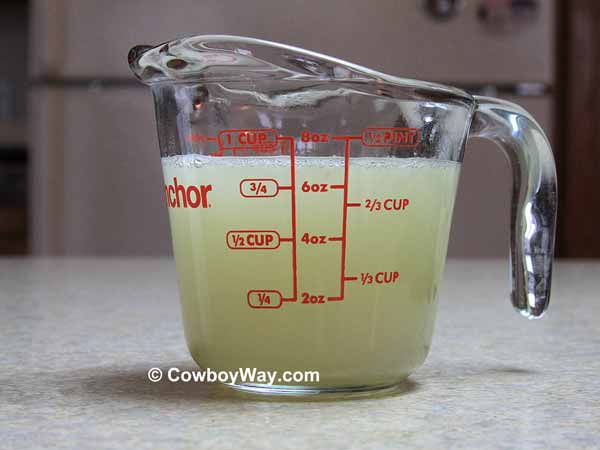 ......to 1/4 cup.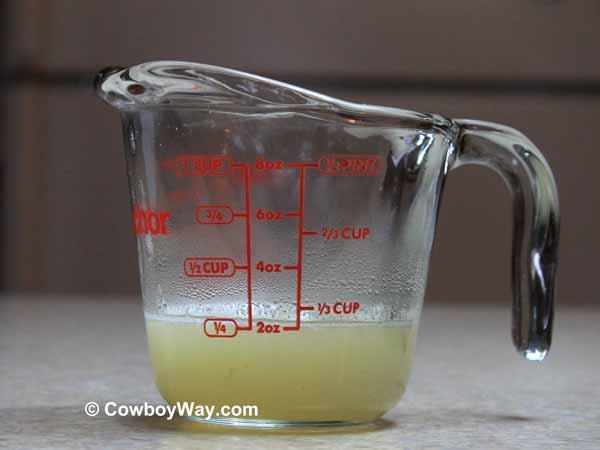 Then put the reduced banana juice back in with the bananas and mash......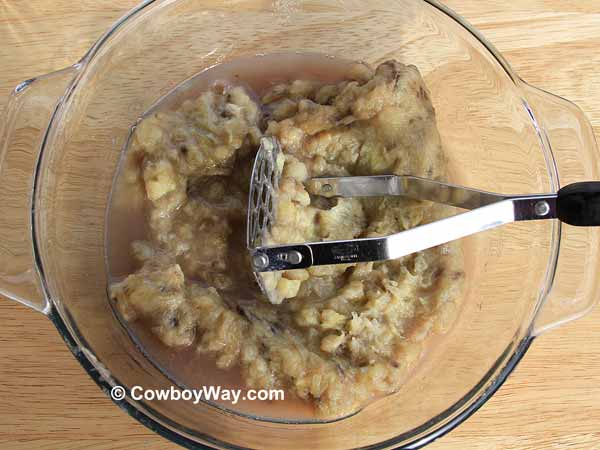 ......until the juice and bananas are mixed back together and the bananas are fairly smooth.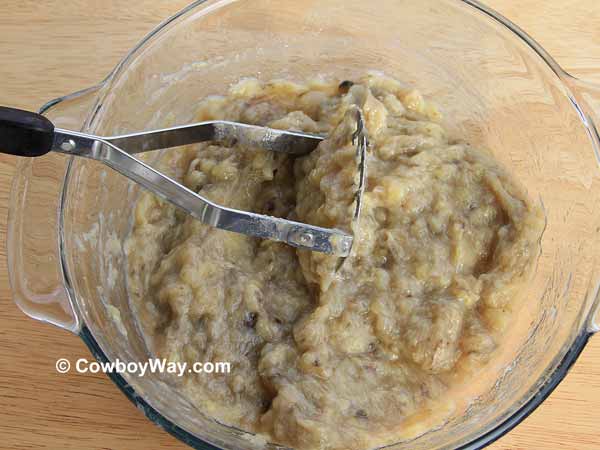 Then add in the rest of the wet ingredients to the banana mixture.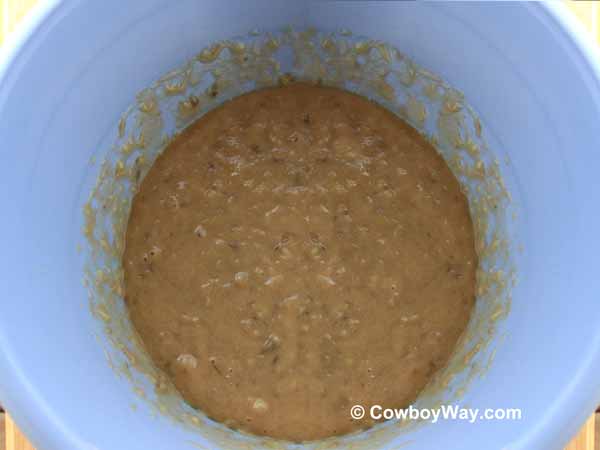 After you combine the wet ingredients and the dry ingredients, you have the finished banana bread batter.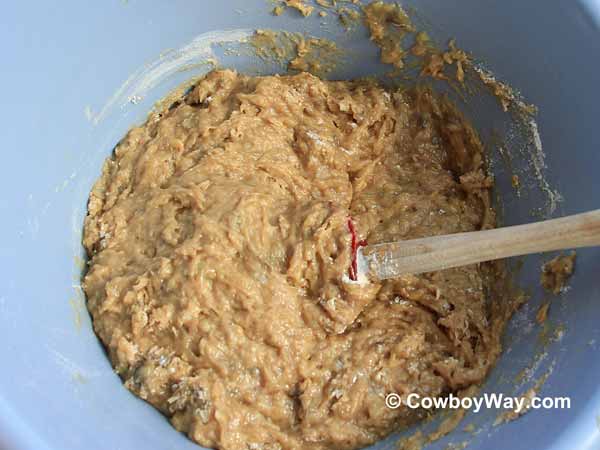 Ready to bake.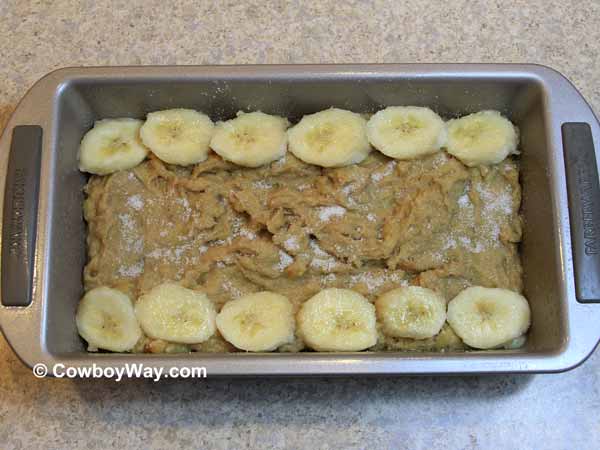 Mmm, the finished "Ultimate Banana Bread" loaf. The top is really pretty, and has a slight glaze because of the sugar.
A slice of banana bread. Yum.
---
The video clip below is of an episode of "America's Test Kitchen" that shows how to make this banana bread recipe. If you'd like to see it, click the play button.
---
Ultimate Banana Bread - Very Ripe Bananas Are Important
When making the "Ultimate Banana Bread" recipe above be sure to use bananas that are very ripe (with lots of big, black spots on them) as opposed to using bananas that are merely ripe (with a few black spots on them).
If you use bananas that are ripe (instead of very ripe), they don't release a lot of liquid when you microwave them. As a result, the bananas themselves don't reduce in mass all that much.
What that means is that you wind up with a loaf that has a dense, heavy, underdone type of texture even though the bread is completely baked.
So, for the best possible Ultimate Banana Bread, do as America's Test Kitchen says and use very ripe bananas.
---
Used With Permission
Special thanks to America's Test Kitchen (<<< this link will open in a new window) for allowing CowboyWay.com to share their recipe here.
---
---