Covers For Barrel Racing Barrels
An attractive cover can hide a rusty barrel or one that needs painting.
The right barrel cover can also make any barrel more attractive to help make the barrel racing event look more professional. Barrel covers can often be customized with your own colors, design, or logo.
Below: A cover on a barrel during the barrel racing event.
---

Red, white, and blue barrel covers by Tough-1. From Amazon.
---
From eBay and Etsy
Note: Sometimes collapsible barrels show up in the results below in addition to the barrel covers. They can look similar at first glance, so be careful and be sure you know which one you're looking at! In addition, barrel racing accessories can also be seen in the results below.
See more barrel racing items on Amazon
See more barrel covers on eBay
---
Good Things To Know Before Buying A Barrel Cover
Is the barrel cover new or used?
What size is it? Is it made to cover a 55-gallon barrel or some other size?
How many covers do you get? They're often sold in sets of three, but occasionally you see a single cover for sale by itself. Don't accidentally order one when you think you're getting three or vice versa.
What's it made of? They're typically made from durable materials such as nylon or vinyl but it never hurts to make sure.
How are the covers put onto the barrels? Some simply slip over the top, others are stretchy and hug the barrel, still others have zippers, and so on.
When shopping for barrel racing barrel covers, read the descriptions carefully! Barrel racing covers can look a lot like pop-up barrel racing barrels if you're browsing quickly through the images, but they're two entirely different things. Don't mistakenly order the wrong item.
Is shipping included in the price or will it be extra? If it's extra, how much will the shipping charges be?
Looking for a barrel saddle? See Billy Cook barrel saddles for sale.
---
Barrel Racing Cover Photos
Below: A custom barrel cover with a ranch's name and logo. For a custom cover, check out BrandedCactusCo on Etsy.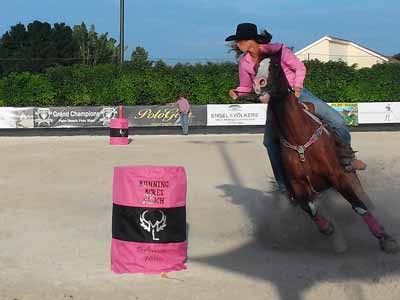 Below: Another barrel racer turns a covered barrel.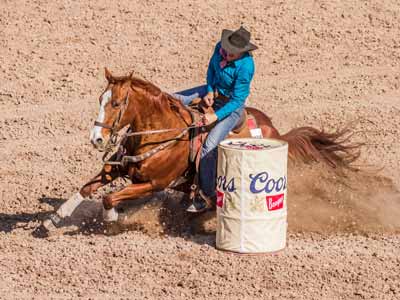 Below: This is a closer look at the barrel and cover above. The green arrow is pointing to a zipper used to takes this particular cover on and off the barrel. Not all barrel covers use zippers.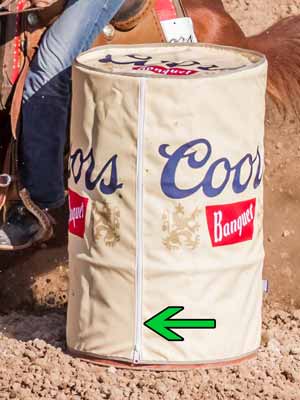 ---