The Three Deadliest Animals In The USA: 1999-2007
According to a study by Wilderness and Environmental Medicine, below are the three deadliest animals in the United States of America from 1999 to 2007.
It is important to note that the deadliest animal, simple called "other mammal" in the study, "is largely composed of farm animals" (according to the wording in the study) which includes cattle and horses.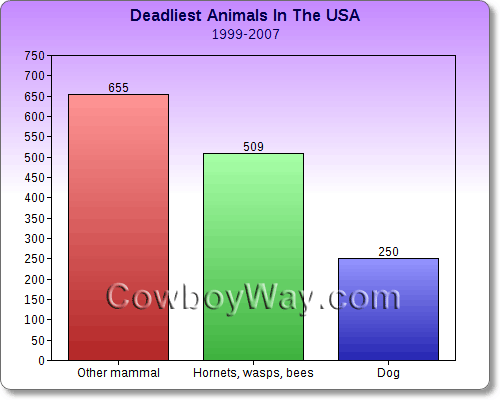 Interesting Charts and Graphs With Horse Information
Source for the above graph and other information:
http://www.wemjournal.org/article/S1080-6032%2812%2900086-5/abstract
What Is / Are...
Horse Tips
Horse Tips
Short tips to help horse owners and anyone who lives or loves a Western lifestyle do something faster, easier, or better.
Link To This Page
If you found this page useful or interesting and would like to link to it from your own website or blog, you can use the small code snippet below to make a link. Thanks!
Use ctrl+C in Windows or command+C on a Mac to copy the link.
<a href=""></a>
---
Below: Like and share this page on Facebook!