Cowboy Night Latches For Sale
A cowboy night latch (sometimes called a grab strap) is a leather strap (or something similar) attached to the saddle for the rider to use when a horse is bucking. For more information on night latches, please scroll down.
Below: A young contestant in the pony bronc riding event uses a night latch.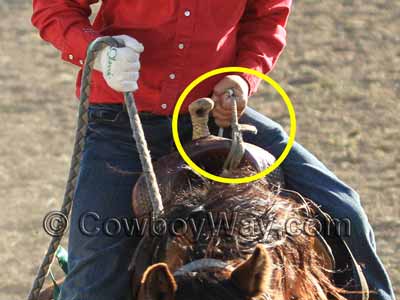 Please note that some of the items below are "grab straps" which are for English saddles. Just to confuse things, some Western riders, like English riders, also call a night latch a grab strap. Be sure to look at the item and read the description to know what kind of a night latch, or grab strap, you're looking at.
About Night Latches
A rider grabs onto, and pulls on, a cowboy night latch when a horse is bucking to help pull themselves deeper into the saddle. A night latch is typically a leather strap, a short piece of rope, or something similar, that has been run through the gullet of the saddle. A night latch is used instead of saddle strings or rope straps because these are likely to break or come loose from the saddle if pulled on while a horse is bucking.
Night latches are commonly used by working cowboys and cowgirls as well as any rider who simply feels the need for one. Depending on the rules, night latches are also sometimes used during the competitive ranch bronc riding event.
Below: A cowboy in the ranch bronc riding event uses a night latch.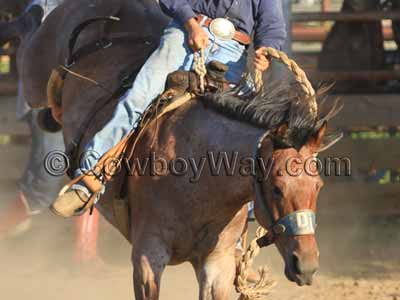 Link To This Page
If you found this page useful or interesting and would like to link to it from your own website or blog, you can use the small code snippet below to make a link. Thanks!
Use ctrl+C in Windows or command+C on a Mac to copy the link.
<a href=""></a>
---
Below: Like and share this page on Facebook!
CowboyWay.com is not responsible in any manner for the content found within the CowboyWay website. If you choose to use any of the information on CowboyWay you are doing so at your own risk. It is your responsibility to verify any information found on CowboyWay. Further, CowboyWay is not responsible for the content of any website that can be reached through a link found on CowboyWay. Period.