Bucking Rolls For Saddles
Bucking rolls are commonly put on slick fork saddles when riding in rough country or when riding a horse that is likely to buck.
Below are cowboy bucking rolls for sale. Please scroll down for a short article about them, and a brief description of how to add bucking rolls to a saddle.
You might also like night latches.
Below: Bucking rolls on a saddle.
---
From eBay and Etsy
See more bucking rolls on Etsy
See more bucking rolls on eBay
---
Bucking Roll Basics
Bucking rolls are a piece of equipment sometimes added to the front of a saddle. They act as a supplement to the saddle's swells (also called the "fork") to help the rider stay in the saddle when a horse is bucking or during other rough riding.
Bucking rolls can be used on most any style of Western saddle, but are most commonly found on "slick fork" styles of saddles such as a Wade. (Read about Wade saddles and see Wade saddles for sale.)
Below: A ranch saddle. This saddle has prominent swells (aka, the "fork") and is therefore not a slick fork saddle. Because of the large swells - or fork - on this saddle it would be unlikely a rider would feel the need for bucking rolls.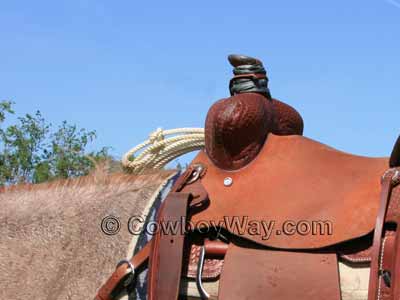 Bucking rolls are designed to be easily put on or removed. On Western saddles there are typically two screws toward the front of the saddle (see photo below). To add bucking rolls to a saddle, all that is usually necessary is to remove the screws, put the bucking rolls in place, then replace the screws.
Below: A slick fork saddle without bucking rolls. The yellow arrow is pointing to one of two screws (there is another one on the opposite side of the saddle) commonly used to attach bucking rolls to a saddle.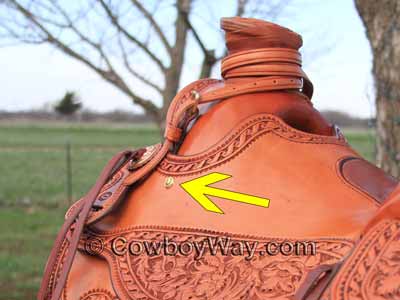 ---
Bucking Roll Options
Bucking rolls can come plain or tooled, made from a variety of different types of leathers, in different colors, with or without decorative stitching, with different sizes of rolls that have different kinds of stuffing inside, and other variations.
Choosing a style of bucking rolls is a lot like choosing a headstall, breast collar, saddle, or any other piece of cowboy equipment: A lot of it simply comes down to personal preference.
Below: A youth-size, slick fork saddle with bucking rolls.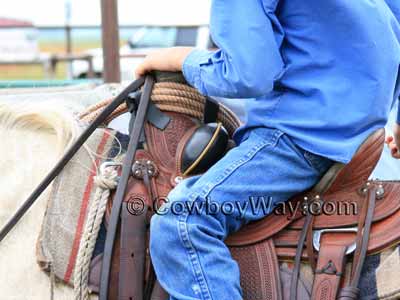 A good online seller will give you information about the bucking rolls they are selling such as their width and length, the size of the rolls (sometimes actual inch measurements are given or sometimes more generic terms such as "medium" or "large" are used), the type of leather and stuffing the bucking rolls are made of, and a good general description (color, stitching, etc.).
Good sellers will also provide at least one very good picture of the bucking rolls. If you have any questions, always ask the seller your questions before you bid or buy.
---
Good Things To Know Before Buying Bucking Rolls
Does the seller have a good feedback rating?
What forms of payment does the seller accept?
Does the seller ship to your location?
How much will shipping be?
Will the seller ship promptly?
Is shipping insurance optional or required?
Does the seller accept returns or exchanges?
Be sure to check the seller's feedback rating, and comments left by other buyers.