Show Chaps
Below are Western show chaps for sale. There is usually an excellent selection of chaps in different weights, finishes, colors. The right chaps can make the perfect finishing touch to a show ensemble. This page makes it easy to compare price and selection between major online sellers.
---
---
Below: Light-colored show chaps with short fringe and silver conchos.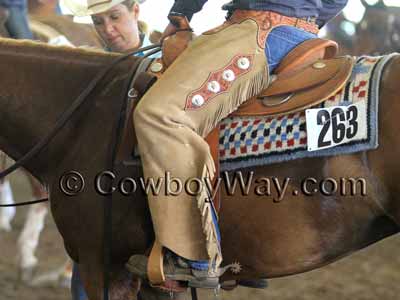 From eBay, Etsy, and Amazon
In addition show chaps, you'll often find show chinks below, too.
---
About Show Chaps
Western show chaps are typically made in a style known as the "shotgun" style of chaps. Shotgun chaps - named for their straight design, similar to a shotgun barrel - run the full length of the rider's leg and usually enclose the leg from top to bottom.
Today's shotgun-style show chaps commonly have a zipper or other fasteners behind the leg that allow the chaps to open so they can easily be put on and taken off. However, older chaps - or new ones designed on an older style - might not be able to be opened, requiring the rider to step into them like a pair of jeans.
Show chaps come in a variety of finishes. Some common finishes include:
Smooth Leather - Show chaps made of smooth leather are made of real leather with a smooth finish, often with a high sheen that shows off the quality and beauty of the leather.
Suede - Suede, like smooth leather, is also real leather. Suede leather has had the surface specially manufactured to create a nap instead of a smooth finish. Suede chaps are usually used for showing instead of being used has a working chap because suede does not stand up to dirt, manure, etc. as well as regular leather. Suede chaps often have a soft, flexible, feel. Suede show chaps are often dyed to achieve beautiful colors not found naturally in leather.
Ultrasuede (sometimes also spelled ultra suede, ultra-suede, etc.) - Ultrasuede is a man-made material and is not real leather. However, it can be a beautiful material and can often be machine washed or dry cleaned whereas real leather cannot.

However, don't take it for granted you can wash or dry clean Ultrasuede show chaps or any Ultrasuede item; always use caution and follow the manufacture's directions for cleaning. In addition, many items found on Ultrasuede chaps such as buckles, conchos, or even the fringe may mean the chaps cannot be machine washed or dry cleaned.
Below: Smooth show chaps with a soft, beautiful sheen.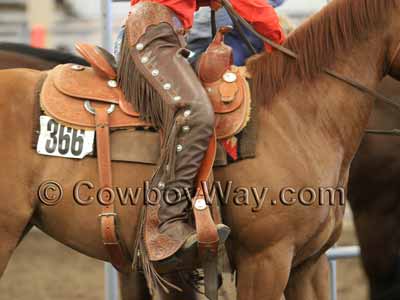 Below: Show chaps dyed to match the rest of the show ensemble.
---
Save The Chaps For Later
If you find a pair of show chaps for sale on Etsy that you like but you're not ready to purchase them right away, you can always add them to your shopping cart so they will be easy to find later.
In most cases, Etsy will keep track of items in your shopping cart for 30 days.
In the meantime, if you want to check out with other items you can click on "Save for later" to move specific items to a separate, but still easy-to-find list beneath your shopping cart.
If you put items into your Etsy shopping cart but don't check out after 30 days, Etsy will automatically move them to the "Save for later" area beneath your cart. When you're ready to actually purchase any of these items, simply click "Move to cart" to put them back into your shopping cart and check out.
Important: Putting items in your Etsy shopping cart or "Save for later" list does NOT reserve them! It just makes them easier to find if they're still available when you come back.
Below: Screenshot image showing the "Save for later" and "Remove" links when an item is in the Etsy shopping cart.

---
---