Women's Western Chaps
Chaps are leather leg coverings worn by horseback riders – typically cowboys and cowgirls – as protection against weather, timber, brush, rope burns, and other hazards.
---
---
Western chaps are buckled around the waist, and are open in the back so a rider's seat is not covered. In addition to being worn from protection, they are also frequently worn for showing horses. Please scroll down for good information to know before buying women's Western chaps.
Below: Women's leather shotgun chaps.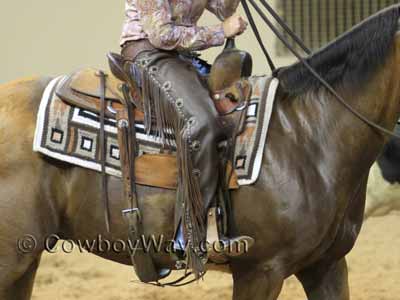 ---
From eBay and Etsy
As you probably already know, the only difference between men's and women's chaps is their size. Many Etsy sellers offer customized chaps made to your specific measurements.
See more women's Western chaps on Etsy
See more women's Western chaps on eBay
---
Women's Western Chaps: Good Things To Know Before You Buy
The first thing to know is that there really isn't such a thing as "women's" Western chaps. Chaps, for a woman or a man, are, well, just chaps. Chaps are what cowboys and cowgirls sometimes call "leggings" which is pretty descriptive: they cover the legs but are more or less open around the hips and seat, adjustable in the waist, and by their very design are gender neutral.

If Western chaps are called "women's" it's probably due to being smaller in size, or their color.
What type of chaps are they? Chaps come in two basic styles: shotgun and batwing.

Shotgun chaps (which get their name from their straight design, similar to a shotgun barrel) are the original style of chap for working cowboys. They run the full length of the leg, and are typically closed around the leg from top to bottom, or close to the bottom.

Modern shotgun chaps are usually made with a zipper or other fasteners running from the top of the leg to the bottom to make them easy to put on and take off.

Older shotgun chaps - or new ones designed on an older style - might be enclosed from top to bottom requiring the rider to step into them like a pair of jeans.
Below: Shotgun chaps on a woman roper.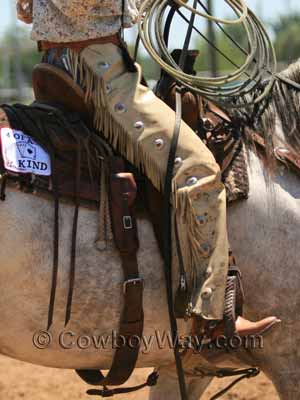 Batwing chaps also run the full length of the leg, but are typically only closed around the leg from the top of the chap to just above the knee. Buckles, snaps, and other fasteners are common.

Batwing chaps are fuller cut than the shotgun style, having a generous amount of leather that overlaps the leg.
Below: A young lady wearing batwing chaps.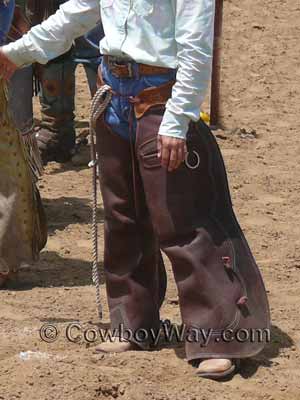 What are the chaps made of? Typically, Western chaps are made of leather. They can also be made of suede, which is a type of leather that has had the surface specially manufactured to create a nap instead of a smooth finish.
If the women's Western chaps you are looking at are used, are they in good condition? In the photos of the chaps pay special attention to the fringe as this is a common area for used chaps to show wear.
What size are the chaps? Try to get actual inch measurements instead of generic size labels. You will want to know waist, thigh, and length measurements.
---
Pronouncing Chaps
Chaps are pronounced with a soft "ch" which means they are pronounced "shaps."
---
---