Rodeo Chaps
Rodeo chaps are a style of batwings chaps. They often come in bright colors with long fringe to showcase the action of bronc and bull riding. Below are new and used rodeo chaps for sale.
---
---
There is usually an excellent selection of chaps in adult and youth sizes. Please scroll down for tips on buying rodeo chaps on the Web or anywhere else. You might also like: Batwing Chaps.
Below: A bronc or bull rider wearing brightly colored rodeo chaps with long fringe.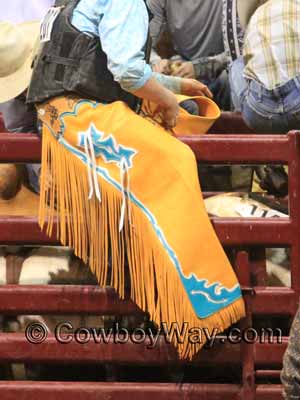 ---
From eBay and Etsy
Most of the rodeo chaps we've seen on eBay are ready to ship. The rodeo chaps on Etsy, however, are usually a mix of ready-to-ship and custom made.
---
Rodeo Chaps: Good Things To Know Before Buying
Is the item for sale really a pair of rodeo chaps? Some eBay sellers use the word "rodeo" even when describing, say, a pair of chinks. Make sure the item for sale is a pair of rodeo chaps and not some other type of cowboy legging.
Are the rodeo chaps new or used?

If they are used, its reasonable to expect a few scuffs. However, one thing almost no one wants is for the fringe to be badly damaged. If you're looking at used rodeo chaps, read the description to see what the seller may say about the condition of the chaps and the fringe, and look closely at the photos.

What size are the rodeo chaps? What measurements will the waist and thigh adjust to at their smallest and at their largest? How long are the chaps? Does the length include the fringe at the bottom? Try to get actual inch measurements instead of generic size labels.
How long is the fringe on the chaps?
Rodeo chaps are prized for their appearance. Make sure there are enough photos that you know what the chaps look like. If not, email the seller and ask for more photos.
How much will the shipping be? Rodeo chaps can be heavy, so be sure you know what the shipping charges are.
Will the seller accept returns or exchanges?
How quickly will the seller ship the chaps after you have purchased them? Is shipping insurance required or optional?
What forms of payments does the seller accept?
Every eBay item for sale has a "Seller info" area. Be sure to check this area to view the feedback rating that previous buyers have left for that particular seller. There is also an area where a potential buyer can read comments left by previous buyers.
If you have

any

questions be sure to ask the seller

before

you bid on or buy a pair of rodeo chaps. Look for the "Ask a question" link in the "Questions and answers about this item" area to ask your questions.
---
Rodeo Chaps Photos
Below: A bull rider wearing a helmet, bull riding vest, and rodeo chaps.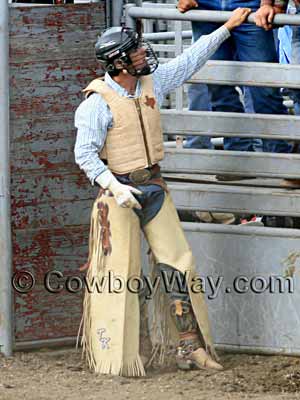 Below: Brightly colord, tiger-striped rodeo chaps.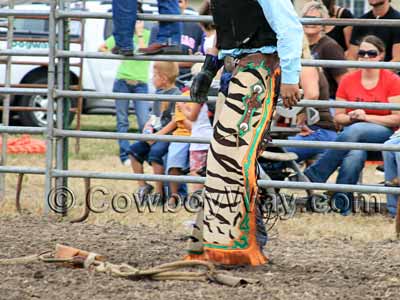 ---
New To eBay?
You may like our one-page cowboy, eBay, crash course (<<< this link will open in a new window.)
---
---