Suede Chaps
Below are suede chaps for sale in different weights and colors.
---
---
Suede chaps are usually used for showing horses instead of as a work chap. Please scroll down for the difference between suede chaps and ultra-suede chaps.
Below: A pair of light turquoise-colored suede chaps.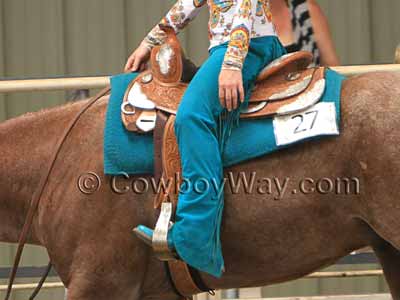 ---
From eBay, Amazon, and Etsy
See more suede chaps on Amazon
---
What Is Suede?
Suede is leather that has had the top grain removed (often called "splitting" the leather). This leaves a "fuzzy" side on the top and the bottom. Suede chaps are usually used for showing instead of being used as a working chap because suede is thinner than leather with the grain, and because it is not as durable as full grain leather.
Suede chaps are often very attractive and soft, and frequently have long, beautiful fringe.
---
What Is Ultra-Suede?
Ultra-suede (sometimes also spelled ultrasuede, ultra suede, etc.) is not made of leather. Instead, it is a man-made, non-woven material made of micro fibers.
Many items made from Ultra-suede can be machine washed or dry cleaned. However, you should always follow the manufacture's directions for cleaning. It's also important to know that if ultra-suede chaps (or other items) have buckles, conchos, or fringe, it may mean the item cannot be machine washed.
---