Wooly Chaps
Below are wooly chaps for sale. Wooly (sometimes spelled "woolly") chaps can come in either batwing or shotgun styles.
---
---
For more information on wooly chaps please scroll down lower on this page.
Below: Wooly chaps on a WCRR (World Championship Ranch Rodeo) ranch bronc rider.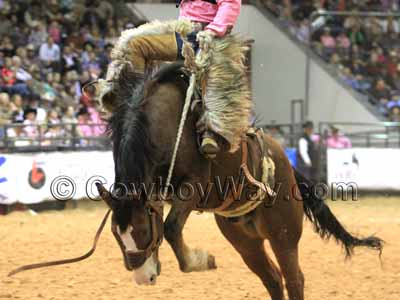 ---
From eBay
---
About Wooly Chaps
Wooly chaps are a type of "hair on hide" chaps. The term "hair on hide" is just what it sounds like: It means that the leather was processed leaving the hair on the hide. Usually, however, the phrase hair on hide implies the leather, and hair, is from a short haired animal such as a cow.
In the case of wooly chaps, however, the leather and hair is from a much longer haired animal, such as a buffalo, bear, Angora goat, and others. Just how long the hair on a pair of wooly chaps is varies greatly according to what they are made of.
Below: A pair of hair on hide chinks made from cow leather. As you can see, the hair is quite short so they are not woolies. (They're also chinks, not chaps, but you get the idea.)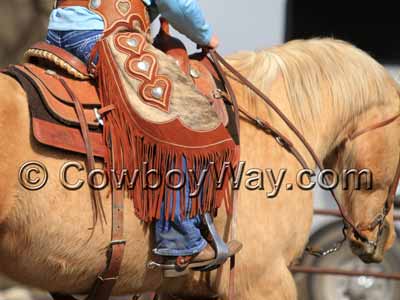 Below: Two different pairs of wooly chaps. They are both woolies, but the pair on the left is much shorter haired, and different haired, than the pair on the right.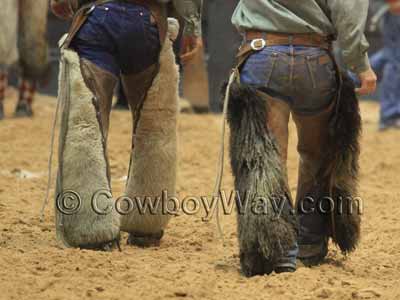 Wooly chaps are worn for the same reasons working cowboys and cowgirls wear other styles of chaps: They offer protection protection from brush, trees, thorns, weather, branding irons, and other hazards inherent to the cowboy lifestyle.
Because the long hair on wooly chaps offers extra protection and insulation against cold and wet conditions they are particularly popular where winters are long and harsh.
While wooly chaps are practical, they are also very showy. For that reason they were popular with 1800s wild west show performers and Western artists. (The renowned Western artist Frederic Remington created a bronze statue titled "Wooly Chaps," also known as "The Bronco Buster." It depicts a cowboy wearing wooly chaps riding a bucking horse.) Wooly chaps are still popular today for reasons of practicality and showiness.
Below: A postcard showing a pair of wooly chaps on an unknown Canadian cowboy, circa 1917. We wish this photo was larger so we could see it better. In addition to the beautiful wooly chaps this cowboy is wearing a fancy gun rig, belt, and cuffs.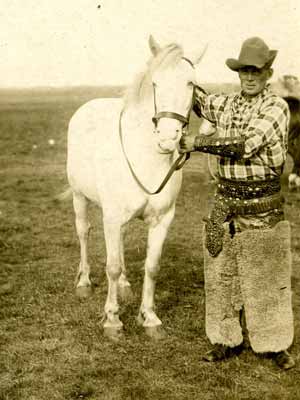 Public domain image.
Below: A pair of wooly chaps photographed on display at the National Cowboy and Western Heritage Museum, Oklahoma City, Oklahoma.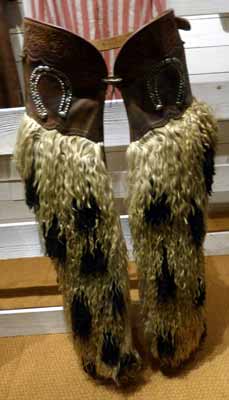 Photo by Wolfgang Sauber (Own work) [CC BY-SA 3.0 (http://creativecommons.org/licenses/by-sa/3.0)], via Wikimedia Commons
---
About Buying Wooly Chaps
Below is good information to know before buying wooly chaps off of eBay or anywhere else.
Are the wooly chaps new or used?
Are you buying the chaps shown in the photos? Some eBay sellers are offering the actual chaps you see for sale in the photos. Other sellers, though, are offering to make you a custom pair of woolies and are therefore using an example photo.
What are they made of? Wooly chaps can be made from a wide variety of leather and hair (or wool or fur). In addition, the leather in wooly chaps may or may not vary. Some makers use one type of leather and hair for the top (wooly) side of the chaps, and another type of leather for the bottom.
What style are they? Wooly chaps come in both batwing and shotgun styles.
What size are they? Most chaps will be adjustable around the waist and and sometimes in the thighs, but not in the length. Try to get actual inch measurements for the waist and the thighs (at their smallest and at their largest) instead of generic size labels, and be sure you know how long they are.
How do the chaps close (buckles, snaps, etc.)? If they are described as "step in" (or something similar) it means they don't have closures at all and are put on by stepping into them like a pair of jeans.
Does the seller describe the chaps as "vintage" or "antique?" If so, you may want to use extra caution. The woolies may be in good condition or in good condition for their age and the life they have had so far, which are two different things entirely. Or, they may not even be in good condition. When used by honest eBay sellers "vintage" or "antique" usually mean the wooly chaps are older but still have value either for wearing or display. Some eBay sellers, though, use the term "vintage" or "antique" a bit too loosely. They may use the words because they sound nicer than "really, really, used" or "poorly taken care of." When a pair of wooly chaps on eBay are described as vintage or antique read the description carefully, study the photographs closely, check the seller's feedback rating, and if you have any questions ask them before your bid or buy.
Do the wooly chaps have pockets?
Where will the seller be shipping from? Some items on eBay, including wooly chaps, come from outside the United States. That's not uncommon but it's a good thing to be aware of.
How much will the shipping be? Chaps can be heavy and they might be coming from a long way away. Be sure you know the shipping amount before you bid or buy.
Will the seller ship to your location? How soon will the chaps be shipped after you purchase them? Is shipping insurance required or optional?
What forms of payment does the seller accept?
How soon do you have to pay for your purchase? An increasing number of eBay sellers are getting tired of buyers who take a long time to pay for their item. Some of these sellers are now requiring the item be paid for within a certain time frame or the sale is off. Read the item's description for acceptable payment times and terms.
Can the woolies be returned? Don't just assume that they can; each eBay seller sets their own return policy.
If you have any questions about a pair of wooly chaps for sale on eBay be sure to contact the seller and ask any questions before you bid or buy.
---
---