Note: Links with green underlines are shopping links and will open in a new window.
What Is A Nord Fork? - Page 2 of 2
<<< continued from page 1
---
After the Nord Fork (also sometimes called a "nordfork") has been placed behind the calf's head, a ground crew member keeps tension on the rope tied to the Nord Fork as the calf slides by. He'll keep tension on the rope until the heeler pulls the slack out of the rope and the inner tube. Instead of keeping tension on the rope, the ground crew member could also walk beside the calf with his hand on the handle of the Nord Fork.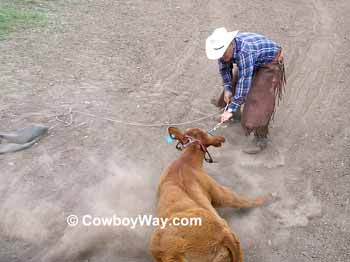 The heeler has ridden until the slack is out of the rope and the inner tube attached to the Nord Fork, and has stopped his horse.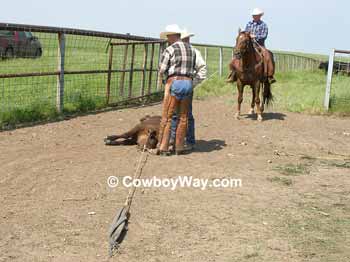 Close-up of a Nord Fork in place as the calf is being worked.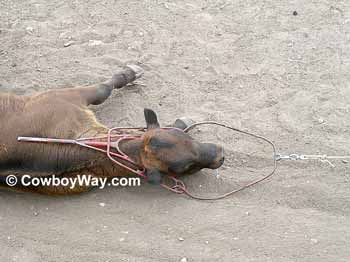 When the calf has been worked, the Nord Fork slips off by pulling its handle forward (toward the nose of the calf).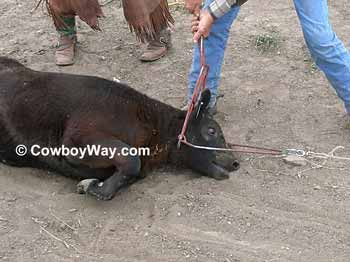 ---
What Is A Nord Fork? (You are on page 2 of 2)
What Is / Are...
Horse Tips
Horse Tips
Short tips to help horse owners and anyone who lives or loves a Western lifestyle do something faster, easier, or better.
Link To This Page
If you found this page useful or interesting and would like to link to it from your own website or blog, you can use the small code snippet below to make a link. Thanks!
Use ctrl+C in Windows or command+C on a Mac to copy the link.
<a href=""></a>
---
Below: Like and share this page on Facebook!