Boys Cowboy Boots
Boys cowboy boots for young boys of all sizes.
Choose from a huge selection of boots in a wide variety of styles. How come a few of the cowboy boots shown are for girls, not boys? Some sellers will list an item (like cowboy boots) in more than one category at a time (like girl's boots and boy's boots).
Below: High-topped boys cowboy boots with a diamond pattern.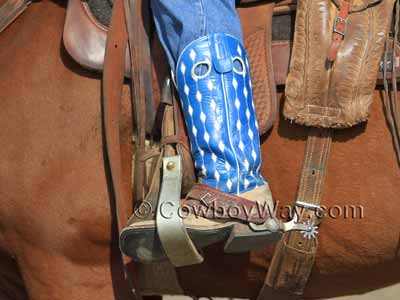 ---
From eBay and Etsy
See more boys cowboy boots on Etsy
See more boys cowboy boots on eBay
---
Boys Cowboy Boots: Good Things To Know Before You Buy
Are the boots new or used (or "pre-owned" as it's often called these days)?
Are there enough good pictures of the boots that you can tell what the tops, soles, and heels are like? If the seller describes any damage to the boots (scuffs, loose stitches, etc.) are these shown in the photographs? If you do not feel the seller is showing enough photographs of the boots, ask them for more before you bid or buy.
If the seller claims the boots are a particular brand, do the photos show a stamp or other mark on the boots to back up their claim?
What size are the boys cowboy boots? Is the seller guessing at the size, or do they know for sure?
How tall are the boot's heels, and how tall are their tops? You may be able to get a good idea just from the photos, but, if necessary, you may have to ask the seller.
Will your little cowboy be using spurs with the boots? If so, do the boots provide an adequate spur ledge?
Below: A pair of boys cowboy boots without a spur ledge at the back of the heel. Notice how the spurs are slipping down lower than they should be.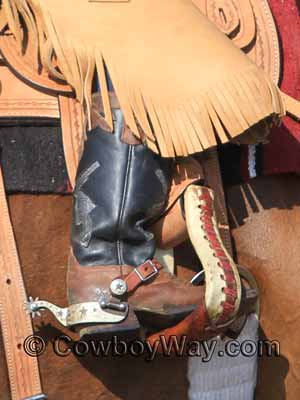 Below: A pair of (adult) cowboy boots pointing to the spur ledge.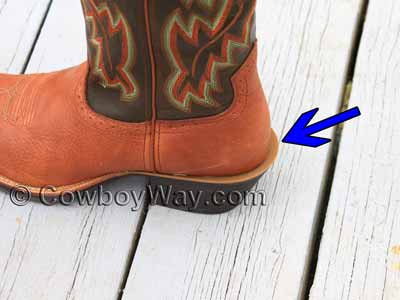 Do the boots have a square toe, "U" toe, etc.? Does it matter to you or your little cowboy? If your little buckaroo has wide feet, they might find a wide toe, like a square toe, to be more comfortable.
What will the shipping charges be?
Will the seller ship to your area? How soon will the boots be shipped after you pay for them?
What payment methods does the seller accept?
Can the boots be returned? Don't just assume they can be; each seller has their own policies. If the cowboy boots can be returned how, and when, will you be refunded? Will you be refunded for the full amount? What about shipping charges?
If you have any questions on a pair of boys cowboy boots be sure to ask the seller before you bid or buy.