Ariat Cowboy (and Other) Boots
Below are Ariat cowboy boots, as well as other styles, for sale. Please scroll down for a description of Ariat ATS Technology and Ariat 4LR Technology.
From eBay, Etsy, and Amazon
The Ariat boots for sale below are both new and used.
---
Ariat ATS Technology
When reading descriptions about Ariat boots, you're liable to see the expression "ATS Technology." So, what is that?
ATS stands for Advanced Torque Stability. Ariat boots with ATS Technology offer 3 times the support and stability of boots with a steel shank, which greatly helps to reduce or eliminate fatigue in the feet, lower legs, and back.
In addition, there is a gel-cushion insole that conforms to your foot. ATS Technology is one of the main reasons Ariat boots are renowned for their comfort, whether riding all day or walking.
---
Ariat 4LR Technology
Another term you might see describing Ariat boots or footwear is "4LR Technology." This stands for "4 Layer Rebound" and refers to the inner and outer soles of the boot or footwear.
4LR means the boot or shoe features EVA cushioning, a moisture wicking sock liner, a metatarsal support pad, and Ariat's patented DuratreadTM outsole. Boots and footwear with 4LR Technology provide long lasting comfort and flexibility.
---
Below: In addition to making riding boots, Ariat makes a line of outdoor/hunting boots.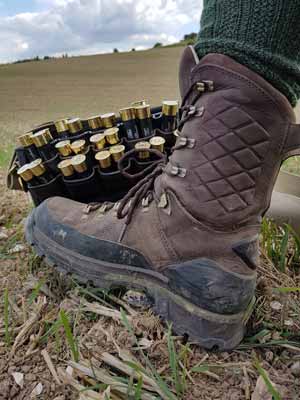 ---
Boot Styles
Field Boots (An English Style Of Boot): Field boots are tall, coming close to the rider's knees. They have lacing at the ankles that allows for the rider to adjust how tight they are across the top of the foot. Field boots are typically worn for jumping disciplines, may or may not have a zipper up the back, and are traditionally black in color.
Paddock Boots (An English Style Of Boot): Paddock boots are ankle height and used mainly for pleasure riding or everyday wear. Typically, a paddock boot has laces or a zipper up the front.
---
Save The Boots For Later
If you find a pair of Ariat boots for sale on Etsy that you like but you're not ready to purchase them right away, you can always add them to your shopping cart so hey will be easy to find later.
In most cases, Etsy will keep track of items in your cart for 30 days.
In the meantime, if you want to check out with other items you can click on "Save for later" to move specific items to a separate, but still easy-to-find list beneath your shopping cart.
Also, if you put items into your Etsy shopping cart but don't check out after 30 days, Etsy will automatically move your items to the "Save for later" area beneath your cart. When you're ready to actually purchase any of these items, simply click "Move to cart" to put them back into your shopping cart and check out.
Important: Putting items in your Etsy shopping cart or "Save for later" list does NOT reserve them! It just makes them easier to find if they're still available when you come back.
Below: Screenshot image showing the "Save for later" and "Remove" links when an item is in the Etsy shopping cart.