Wild Rags
Below are cowboy wild rags and accessories for sale. A "wild rag" is a cowboy or Western scarf worn around the neck.
Wild rags are popular among working cowboys and cowgirls for the warmth they provide in cold temperatures, and for protection from the sun, wind, and dirt anytime. Many cowboys consider a wild rag a standard part of cowboy dress - at least in cooler temperatures - whether it be for work or social occasions.
Many of wild rags below, but not all, are SASS (Single Action Shooting Society) approved (check the item's description).
Below: A light blue silk cowboy wild rag.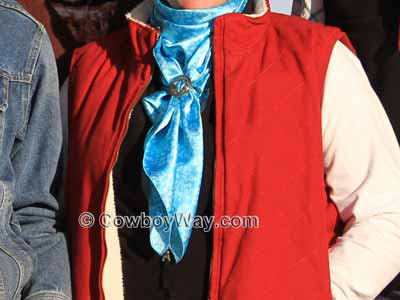 ---
From eBay, Amazon and Etsy
---
About Buying A Wild Rag
Before you buy a wild rag off of eBay or anywhere else, there are two basic things you should know: 1) What it's made of, and 2) how big it is.
Wild rags are traditionally made of silk or satin, but you should not assume this. Many of them are also made of cotton, nylon, and other materials.
Wild rags vary a great deal in how big or small they are. Make sure you know, and like, the size of the wild rage before you buy it.
---
Silk and Cowboy Wild Rags
Wild rags come in a wide variety of colors, sizes, and fabrics, with silk being one of the most popular fabric choices. Silk is a natural fiber with a soft feel, making it comfortable to wear against the skin in sensitive areas such as around the neck. It has many benefits for a cowboy wild rag, including:
Silk is light weight, supple, and breathable. It insulates very well, keeping a cowboy or cowgirl warm in cold temperatures and cooler than many other fabrics in warm temperatures.
Silk is hypoallergenic, which means it is unlikely to cause an allergic reaction to the wearer.
Silk effeciently absorbs perspiration while wicking it away from skin, an exremely useful characteristic for a working cowboy or cowgirl.
It is also a very attractive fabric: It has a soft natural sheen, takes and holds color dyes well, and with minimal care can look good for years.
---
Pictures of Wild Rags
A deep purple wild rag.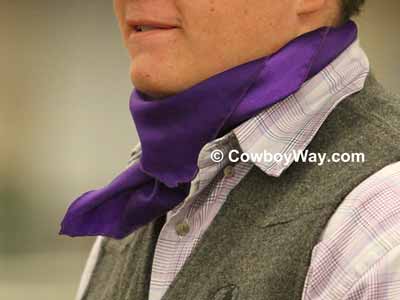 A pretty wild rag in a muted gray color.
A red / wine colored wild rag.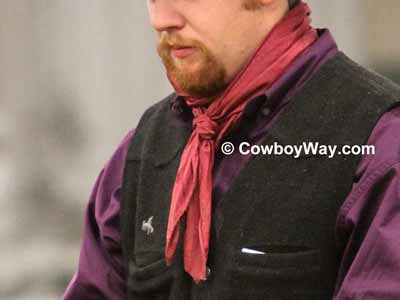 A large wild rag. Larger wild rags provide more coverage around the neck, and will have longer tails.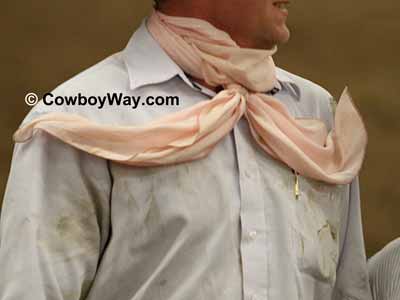 A multi-colored (black and white) wild rag.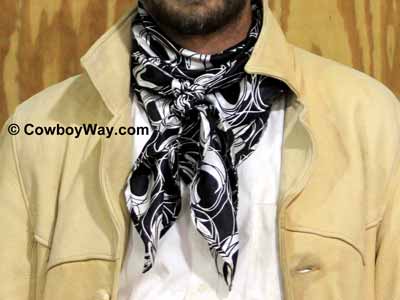 ---
How To Tie A Cowboy Wild Rag
To learn how to tie a wild rag, you can see our article:
How To Tie A Wild Rag.
How To Wash A Cowboy Wild Rag
To learn how to take care of a silk cowboy wild rag, please see our article:
How To Care For A Silk Wild Rag.