Western Messenger Bags
Below are Western messenger bags for sale. A messenger bag is a type of versatile tote designed to carry, well, whatever you want to carry.
A messenger bag gets its name from bicycle messengers in large cities who use this style of bag to carry the letters, documents, and small packages they deliver.
Since a messenger is also called a courier, messenger bags are also sometimes also called courier bags. For more information about messenger bags, please scroll down beneath the bags for sale.
Below: A messenger bag with Western styling from Amazon.

A turquoise colored Western messenger bag with embelleshmints and strap. From Amazon
---
From eBay, Amazon and Etsy
See more Western messenger bags on Etsy
See more cowboy / Western messenger bags on eBay
---
What Is A Messenger Bag?
Like we said at the top of this page, a messenger bag is a type of versatile tote bag designed to carry pretty much anything you want to carry.
They come in a wide variety of looks and styles, but are usually characterized by a long strap that is worn over the same shoulder the messenger bag is carried on, or passed over the head for cross-body carry.
They may or may not also have shorter carry handles, like a briefcase.
Many messenger bags are a unisex bag carried by both men and women, although some bags are more feminine or masculine in appearance.
Below: A bicycle messenger in London with a large, black messenger bag. This bag might be a backpack and is therefore being worn over both shoulders. Messenger bags are typically worn over one shoulder and/or carried by straps.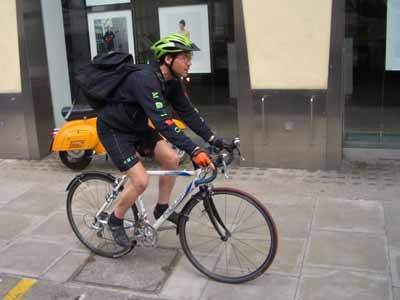 Attribution: Photo by Caspar Huges, CC BY-SA 4.0, via Wikimedia Commons. Image was cropped.
Below: A September, 1908 photo of a messenger boy (aka courier) in Waco, Texas.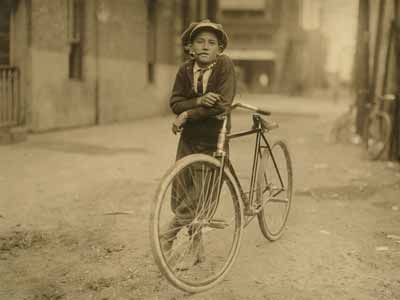 Below: Large, leather messenger bags.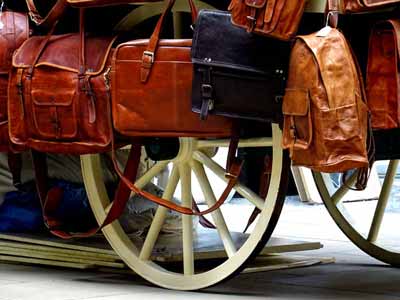 ---
The Pony Express: Early Western Messengers
On April 3, 1860, the American messenger delivery system that came to be called the Pony Express made its first runs. It was a private, not governmental service, started by the wagon freight company Russell, Majors and Waddell.
The Pony Express carried messages, mail, and newspapers both ways between St. Joseph, Missouri and Sacramento, California, across nearly 2,000 miles of country that was often rugged, desolate, and dangerous. It was in operation for a mere 19 months before the telegraph put it out of business, but it remains an endearing symbol of Americana and lore.
Pony Express riders rode horses and/or mules at the highest speeds they could manage or sustain for 10 - 15 miles before they switched to a fresh mount. Riders carried as little weight as possible: Even the mail and messages they carried were often on the thinnest paper possible in order to cut down weight.
---
An Early Messenger Bag
The image below shows a reproduction of a Pony Express mochila over the top of a Western saddle. The word "mochila" is a Spanish word that means "knapsack" or "backpack" in English, but a Pony Express mochila was really more a type of saddle bag or messenger bag.
The mochila was leather and had four pockets: One on each side on the front and one on each side at the rear. Every time a Pony Express rider changed to a fresh mount he would take the mochila off of one saddle, put it over the saddle of the next mount, and take off again.
Below: A photo from an exhibit at the Smithsonian National Postal Museum. It shows a reproduction of a Pony Express mochila, which is the cover over the saddle with built-in pockets or bags. We like to think of it as an early version of a messenger bag.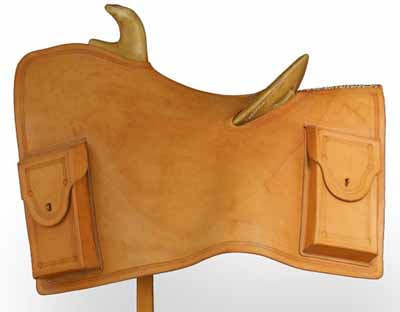 Below: A 1960 postage stamp commemorating the 100th anniversary of the start of the Pony Express. Note the mochilla over the saddle.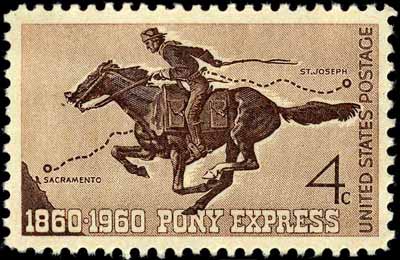 Public domain image
Many truths have lasted through history about the Pony Express, but so have many myths. Below, for example, is a "help wanted" poster for the Pony Express that probably never existed (bearing that in mind, this poster is most likely a recreation).
While ads were placed in newspapers in order to hire Pony Express riders, many (if not most historians) searching through papers of the time say they have never found a Pony Express ad that read: "Wanted: Young, skinny, wiry fellows, not over eighteen. Must be expert riders, willing to risk death daily. Orphans preferred. Wages $25 a week."
Still, it makes for a wonderfully exciting myth (and it was a very dangerous job, even if the actual ads were worded differently).
Below: An exciting, if inaccurate poster, for the Pony Express.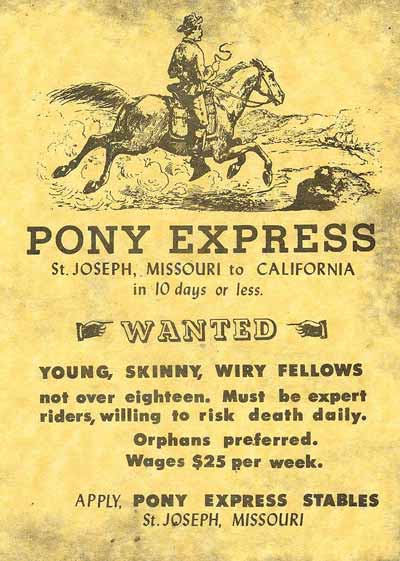 ---