Women's Western Belts
Below are women's Western belts for sale. There is usually an excellent selection in all price ranges.
Please scroll down the page for a brief article on good things to know before buying a Western belt.
---
From eBay, Etsy, and Amazon
See more women's Western belts on Etsy
See more women's Western belts on eBay
---
Women's Western Belts - Good Things to Know Before You Buy
Is the belt new or used?
How long is the belt? Is the seller basing the length of the belt from a stamp or tag on the belt, or did they measure it themselves? If the seller measured the length of the belt themselves, how did they do it: Did they measure from tip to tip, including the buckle (if any), or did they measure only the leather without including any buckles?
How wide is the belt?
Is the buckle removable so you can change buckles? Do you care?
What is the belt made of? When many of us think of a "Western" belt we think of a belt made of leather. However, this isn't always the case. Make sure you know what the belt is made of so you don't get any surprises later on.
What payment methods does the seller accept? How soon after the sale do you have to pay for your purchase? An increasing number of eBay sellers are getting tired of buyers who take a long time to pay for their item. Some of these sellers are now requiring the item be paid for within a certain time frame or the sale is off. Read the item's description for acceptable payment methods, times, and other terms (if any).
Will the seller ship to your area? How soon will the belt be shipped after you pay for it?
How much will the shipping charges be?
Does the seller accept returns?
---
Photos Of Women's Western Belts
A simple, very pretty Western belt.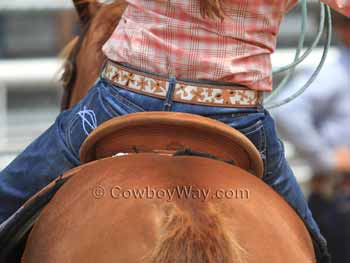 A woven Western belt with a floral theme.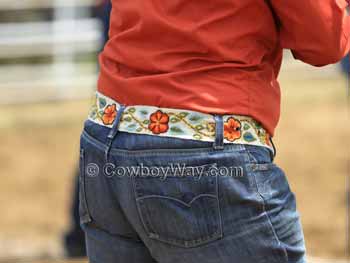 A hair-on-hide Western belt with lots of silver conchos and accents.