Horse Leggings
Delightful horse leggings for sale with equine designs.
Just to be clear, by "horse leggings" we mean the type of legging, typically worn by women, that hug the legs from the waist to the bottom of the leggings. And by "horse" leggings we mean leggings with horse designs on them.
In the horse world other there are other items sometimes called leggings (or leggins'), such as chaps, chinks, or half chaps. Some folks even refer to the protective boots worn by horses as "horse leggings," but we think those folks might be a tad confused...... For the difference between leggings and tights, please scroll down beneath the leggings for sale.
Below: Horse leggings with a white horse and flowing mane. From Zazzle.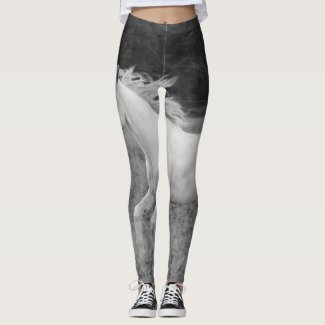 Running Horse Leggings
by
TElbertImages
---
From eBay, Amazon, and Etsy
See more horse leggings on Amazon
---
Leggings vs. Tights: What's The Difference?
Leggings and tights can be similar, and not everyone agrees on exactly what makes the distinction between the two. Below are a few generally accepted ways to tell the difference between leggings and tights, although everyone might not agree.
Leggings begin at the waist and stop somewhere between the knee and the ankle. (Most styles go all the way to the ankle, but some do end higher.) Tights begin at the waist and continue all the way down and typically go over the foot, like pantyhose. There are, however, footless tights.
Leggings are denser than tights, and are opaque (not transparent), even when stretched. Tights, on the other hand, are less dense and more sheer, sometimes even being slightly transparent.
Leggings usually have a visible seem. Tights do not.
Leggings and tights both hug the legs, but when things like size and fit are equal leggings are not quite as form-fitting as tights. With leggings, minor draping of the fabric might be visible.
Leggings are usually considered a more casual look than tights.