Cowboy Cuffs
Below are cowboy cuffs (also sometimes called "wrist cuffs") and related items for sale.
Cowboy cuffs are worn to protect the wrist, forearm, and shirtsleeve from injury or damage caused by ropes, branding irons, brush, wire fencing, and other hazards.
Cowboy cuffs are also worn by re-enactors and cowboy shooters. Please scroll down for a brief article on cowboy cuffs.
Below: Cowboy cuffs on a cowboy reenactor.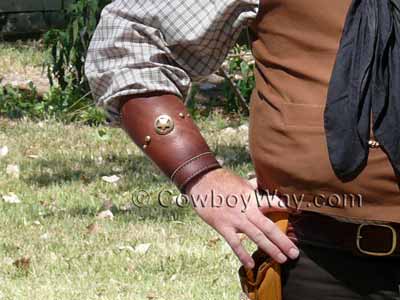 ---
From eBay and Etsy
---
Cowboy Cuff Savvy
Cowboys have worn leather cuffs for generations to protect their wrists, forearms, and shirtsleeves from injury or damage caused by ropes, branding irons, brush, wire fencing, and other hazards inherent to their lifestyle. They are worn today for the same reasons, or as a part of "cowboy dress" when participating in re-enactments or cowboy shooting events.
Cowboy cuffs are typically made of leather and come in different heights or lengths according to their intended use, or simply the wearer's personal preference. They can be plain, or fancy with decorative lacing, buckles and/or snaps, tooling, and so on.
Below: Cowboy cuffs being worn by a cowboy mounted shooter.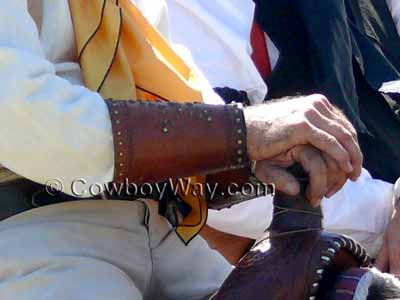 ---
Cowboy Cuff Options
When buying cowboy cuffs, there are several things to consider:
How tall, or long, are the cuffs?
How big is the opening at the wrist and at the forearm? Hint: If you need to measure your wrist and arm to know the sizes of the openings you're going to need, you probably want wear the type of shirt you'll be wearing when you wear the cowboy cuffs.
Be sure to get closures that you like. Some cowboy cuffs open completely from top to bottom, while others remain partially closed. They may close with snaps, buckles, other closures, or a combination.
What is SASS? When used when describing a cowboy cuffs, SASS probably means Single Action Shooting Society, an international organization created to preserve and promote the sport of Cowboy Action Shooting (CAS).
---
Good Things To Know Before You Buy
Does the seller have a good feedback rating?
What forms of payment does the seller accept?
Does the seller ship to your location?
How much will shipping be?
Will the seller ship promptly?
Is shipping insurance optional or required?
Does the seller accept returns or exchanges?