Horn Wraps
Below are horn wraps for protecting roping cattle. There is usually an excellent selection with several styles of protective horn wrap for roping cattle to choose from.
Not all horn wraps are the same. Please scroll down for a few good things to know before buying horn wraps.
---
From Amazon

NRS-Professional`S Choice Extreme Horn Wrap

Weaver Leather Super 8 Horn Wrap
---
From eBay
---
Horn Wraps - Good Things To Know Before You Buy
What type, or style, of horn wraps are they? Do they also protect the ears?
Are they new or used?
Is there at least one good picture of the horn wraps?
How adjustable are the wraps? While most horn wraps are one-size-fits-all, some are more inclined to fit larger or smaller heads/horn bases. Read the seller's description for size tips such as "fits smaller cattle (or horn bases) better than larger ones" or something similar.
Below: Horn wraps on roping steers.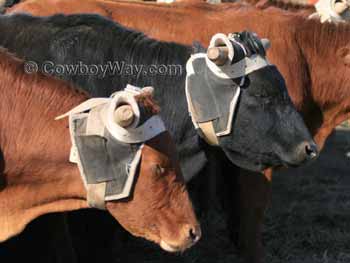 If color is important to you, what color are the horn wraps? Don't assume the photo shows the correct color - some eBay sellers use stock photos, so the color may be different than the one shown.
If the horn wraps are used, it is reasonable to assume they may have defects of some kind. The seller should clearly describe any scratches, scuffs, tears, stains, etc., and show them in the pictures if possible.
What will the shipping charges be? The horn wraps might be heavier or more costly to ship than you think. Be sure to check the seller's shipping charges to see if you think they're fair.
Above: A head-on photo of a horn wrap on a steer.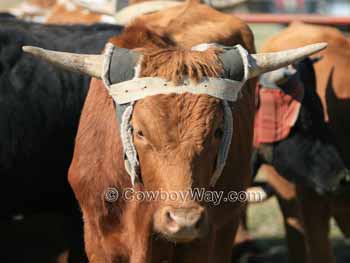 How soon will the seller ship the horns wraps after you pay for them? Will the seller ship to your location? Is shipping insurance available? If it is, is it required by the seller or optional, and how much will it cost?
What methods of payment does the seller accept?
How soon do you have to pay for your purchase? An increasing number of eBay sellers are getting tired of buyers who take a long time to pay for their item. Some of these sellers are now requiring the item be paid for within a certain time frame or the sale is off. Read the item's description for acceptable payment times and terms.
Check the "Seller info" area to view the seller's feedback rating. You can also read comments left by other buyers that have previously purchased items from that seller.
If you have any questions about the horn wraps be sure to ask the seller before you bid or buy. Look for the "Ask a question" link in the "Questions and answers about this item" area to ask your questions.