Pole Bending Bases
Below are pole bending bases, poles, and accessories for sale.
You can usually find just the bases, just the poles, or a set of bases and poles together. "Pole bending" is a a sport where a mounted rider and their horse run a course through six poles standing upright in bases. For more information, please scroll down.
Below: A pole bending base in an arena.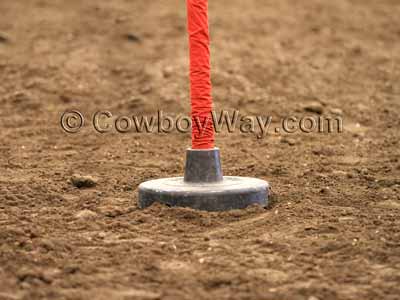 ---
From eBay and Amazon
See more pole bending bases on eBay
See more pole bending bases on Amazon
---
Pole Bending Basics
Pole bending is timed event that features a horse and rider running a serpentine pattern around six poles arranged in a line.
The pole bending course consists of six poles, standing upright in bases, spaced (usually) 21 feet apart in a straight line. To run the course:
The horse and rider gallop past the start/finish line and down one side of the row of poles.
Reaching the last pole, they turn around it and weave their way back through all the poles.
 When they reach the end the turn around the last pole then weave their way back down through the line of poles in the opposite direction they just came.
Upon once again reaching the last pole in the line they turn around it and run in a straight line to the start/finish line to stop the time.
The fastest time wins.
Below: The pole bending pattern.

Above - Image attribution: By Camas_Prairie_Stump_Race_course.png: *Barrel_course.png: en:User:Archierderivative work: DialUp at en.wikipediaderivative work: DialUp at en.wikipedia (Camas_Prairie_Stump_Race_course.png) [GFDL (http://www.gnu.org/copyleft/fdl.html) or CC-BY-SA-3.0 (http://creativecommons.org/licenses/by-sa/3.0/)], via Wikimedia Commons.
Pole bending is often seen at junior high and high school rodeos, as well as horse shows on both local and national levels.
Below: A pole bending course, with poles and bases, showing five of the six poles.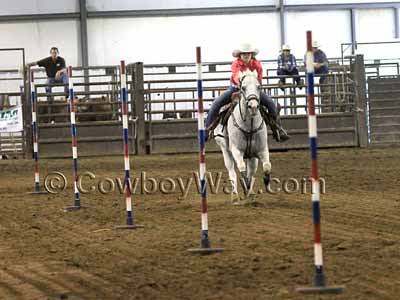 ---
Pole Bending Penalties
In pole bending, there can be penalties. For example, if a horse and rider knock over a pole they are either 1) given a "no time" for their run or 2) they are given a 5-second penalty for each pole that is knocked over. In addition, if a horse a rider break the pole bending pattern (fail to follow the pattern as the rules describe) they are disqualified.
Below: A pole bender incurs a 5-second penalty for knocking over a pole.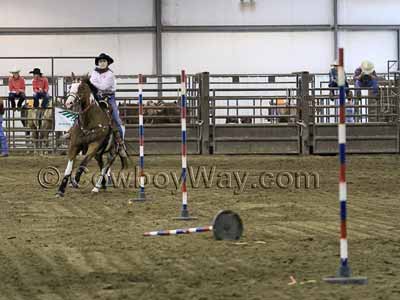 ---
About Pole Bending Bases
While pole bending bases can vary, the typical base is usually 14 inches in diameter and 6 inches or so tall. They are made for the poles to be easily inserted and removed for ease of moving and/or storage. Some bases are solid, heavy rubber, while others are fairly light weight because they are hollow (again, for shipping and storage). The hollow models are too light weight to be practical to use on their own, so they are designed to be filled with sand to create a more stable base when used for pole bending.
---
Another Kind Of Pole Bending
There is another type of competitive event similar to pole bending: The Nez Perce Stake Race. For this competition two identical pole bending courses are set up side-by-side. Two horse and rider teams compete at the same time in head-to-head competition. The horse and rider that come in second are eliminated, while the winning horse and rider move ahead in the competition to race against another team.
The Nez Perce Stake Race is a particularly well known for being part of Appaloosa Horse Club (ApHC) events. The Nez Perce Indians developed what is now the Appaloosa breed.
---
Save The Bases For Later
If you find a set of pole bending bases on Amazon that you like but you're not ready to buy them right away, you can always add them to your shopping cart so they will be easy to find later.
In most cases, Amazon will keep track of your bases, and anything else in your shopping cart, for 90 days.
Later on, if you decide you don't want the item(s) after all, it's easy to click "delete" and remove them from your cart.
In the meantime, if you want to check out with other items, click "Save for later" to move the pole bending bases to a separate, but still easy-to-find list beneath your shopping cart.
Important: Putting items in your Amazon shopping cart or "Save for later" list does NOT reserve them! It just makes them easier to find if they're still in stock when you come back.
Below: Screenshot image showing the "delete" and "Save for later" links when an item is in the Amazon shopping cart.