Horse Tire Swings
Below are horse and pony tire swings for sale. Many of the swings are ready to hang.
In years past tire swings, were, well, tire shaped, but in more recent years the tires have been cut and shaped to create designs that children love, like horses or ponies. Most of these newer designs are quite cute, and often have life-like embellishments like eyes or ears, and manes or tails.
Below: A horse tire swing in a backyard.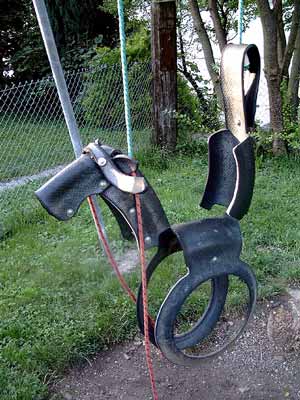 Image attribution: By StromBer (Own work) [GFDL (http://www.gnu.org/copyleft/fdl.html) or CC BY-SA 3.0 (http://creativecommons.org/licenses/by-sa/3.0)], via Wikimedia Commons
From eBay and Amazon
---
See more horse tire swings on Amazon
See more horse tire swings on eBay
---
About Horse Tire Swings
Below are some good things to know when shopping for a horse tire swing on the Web or anywhere else.
Does the tire swing come with any accessories to help hang it? Accessories might include rope(s) and/or hardware.
Does the swing come ready to hang or is some assembly required?
What age is the swing designed for? This is usually give as "for ages 3 and up," "ages 5 and up," or something similar. This will give you an idea if the swing will be the right size to accommodate your little rider.
How much weight with the tire swing hold?
How soon can the tire swing be shipped? Most of them we've seen are in stack and can be shipped right away, but there are exceptions so it never hurts to be sure.
Are shipping charges included in the price, or is shipping extra?
Below: A horse tire swing in a playground.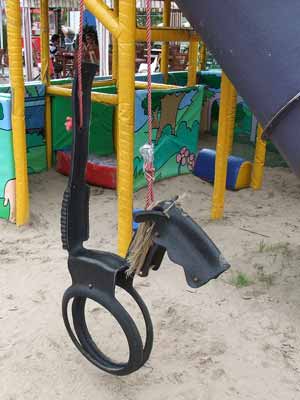 Image attribution: By Sebastian Wallroth (Own work) [CC BY 3.0 (http://creativecommons.org/licenses/by/3.0)], via Wikimedia Commons
---
Tire Swings and Recycled Tires
Many horse tire swings for sale, but not all, are made from recycled tires. Since used tires present a real headache for many landfills - they are large, they are not biodegradable, and in many states it is illegal to burn them - repurposing tires is a great way to help keep them from clogging landfills.
---
Charles Goodyear and Tires
Charles Goodyear (1800 - 1860) had a passion for rubber. In fact, the invention of usable rubber, which led to the rubber tire and the tire swing, is credited to Goodyear. The story of Goodyear and rubber, however, is not a glamorous one.
Born in 1800, Goodyear lived long periods of his adult life broke and in and out of jail for debt. He and his family spent times where they were homeless and/or living on food provided to them by the kindness of others. Six of his twelve children died in infancy.
Amid all the poverty and heartache Goodyear was obsessed with making rubber a usable material. During Goodyear's early life rubber seemed to be useful for many applications but could not withstand heat, softening into a pile of unusable goo.
For years Goodyear tirelessly experimented with adding different substances to rubber and/or subjecting it to heat in order to make it hold its shape and become a usable material. His constant experiments were a passion with him; on one occasion he even had his wife bring rubber and a rolling pin to jail so he could continue his experiments while locked up for debts he could not pay.
Although Charles Goodyear did finally have great success in turning natural rubber into a new, improved, usable material through the process of vulcanization, his financial fortune fluctuated dramatically. He once again spent time in prison for debts he could not pay, and died in 1860 with $200,000 in debt.
While Goodyear did eventually make many fine things from rubber, neither he or his family was ever associated with Goodyear Tire and Rubber Company, the world-renowned tire manufacturer that took his name out of acknowledgement and respect for his contributions to modern, usable rubber.
Below: A tire swing, the precursor to the horse tire swing.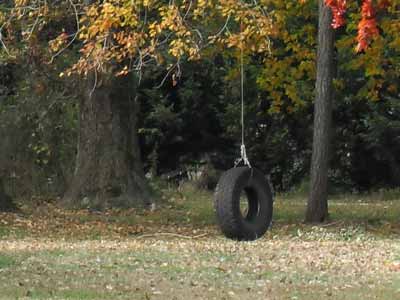 ---
Save The Tire Swing For Later
If you find a tire swing you like but you're not ready to purchase it right away, you can always add it to your shopping cart so it will be easy to find later.
In most cases, Amazon.com will keep track of your tire swing, and anything else in your shopping cart, for 90 days.
Later on, if you decide you don't want the item(s) after all, it's easy to click "delete" and remove them from your cart.
In the meantime, if you want to check out with other items, click "Save for later" to move the horse tire swing to a separate, but still easy-to-find list beneath your shopping cart.
Important: Putting an item in your Amazon shopping cart or "Save for later" list does NOT reserve it! It just makes it easier to find if it's still in stock when you come back.
Below: Screenshot image showing the "delete" and "Save for later" links when an item is in the Amazon shopping cart.