Cowboy Zippo Lighters
A Zippo lighter is a lighter made by the Zippo Manufacturing Company located in Bradford, Pennsylvania. Below are cowboy or Western designs on Zippo lighters for sale.
Since the early 1930s Zippo has manufactured lighters that are extremely popular due to their quality, windproof design, ability to light and stay lit in windy conditions, and the beautiful designs and artwork they are often embellished with. For more information about Zippo lighters, please scroll down beneath the lighters for sale.
You might also like: Dallas Cowboys Zippo lighters.
Below: A silver Zippo with a Jack Daniels Whiskey design.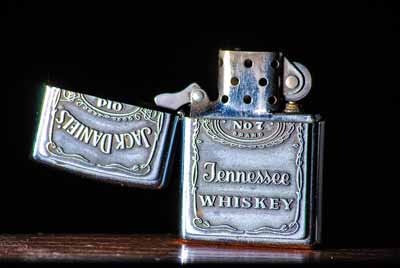 ---
From eBay and Amazon
Below are cowboy Zippos for sale on eBay and Amazon. Most of the ones we've seen are new, but some of them might be used and/or collectible.
See more cowboy Zippos on Etsy
See more cowboy Zippos on eBay
---
You might also like......
---
About Zippo Lighters
The story of the Zippo lighter begins in the early 1930s when its founder, George G. Blaisdell, redesigned an Austrian-made lighter. The Austrian lighter required two hands to operate, was unattractive (at least in Mr. Blaisdell's opinion), and easily dented. It did, however, work well, even in windy conditions.
Mr. Blaisdell's redesign of the Australian lighter produced the first Zippos, lighters that quickly became known as needing only one hand to operate, easy to light and stay lit, durably made, and attractive to look at. Along with the first Zippo lighters came Mr. Blaisdell's now-famous guarantee: "It works or we fix it free."
Shortly after America joined World War II in 1941 the Zippo Manufacturing Company dedicated all of its production to the USA military, halting production for civilian markets until the end of the war in 1945. American military personnel carried the Zippo into the war and around the world, and an association with the Zippo and America was so strongly formed that the durable Zippo lighter became symbolic of the USA itself.
Below: A Zippo lighter featuring the letters "USA," red, white, and blue colors, and a bald eagle.
Early in its history the Zippo Manufacturing Company began producing lighters with unique and different designs and artwork, often at the request of companies looking for a way to advertise on the lighters. The artwork has become as famous as the durable, dependable lighters themselves, and highly loved by millions of Zippo owners in American and worldwide.
You Might Also Like...
Art
Bathroom
Car Mats
Ceiling Fans
Chairs
Chandeliers
Cowboy Night Light

Lighted steer head

Cowhide
Cow Skulls
Dry Erase Boards
Glass
Napkins
Office
Party Supplies
Rugs
Shower Curtains
Table
Tapestries
Wagon Wheels
Wall Decals
Wallpaper
Wedding