Boot Scrapers With Brushes
A boot scraper with brushes is a standard item found outside the doors of a lot of country homes.
They come in a wide variety of sizes and styles, and while most of them are simple in design they are nonetheless very functional for removing dirt and mud from boots and shoes.
Please scroll down for good information to know before buying a boot scraper.
Below: A boot scraper with brushes. The horse shoe at the left acts as a boot jack to help pull off boots.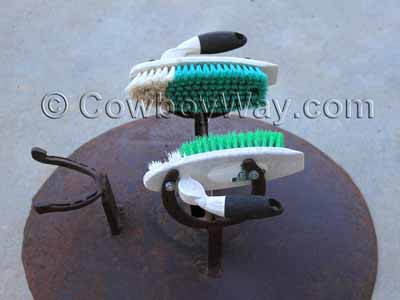 ---
From eBay, Etsy, and Amazon
See more boot scrapers with brushes on Etsy
See more boot scrapers with brushes on eBay
---
Boot Scrapers With Brushes: Good Things To Know Before You Buy
Is the boot scraper new or used?
Is the boot scraper the right style for the type of dirt you want it to remove? For example, many styles offer an actual scraper for scraping off heavy dirt or mud, while others have only a brush (or brushes), without a scraper, for removing lighter dirt and/or sand. Still others are a combination of the two. Get the right design for the type of dirt you're going to be dealing with. If necessary, you can always get a "light dirt" boot scraper for one door, and a heavier-duty scraper for another door.
If the boot scraper has brushes attached, can they be easily and affordably replaced? A boot scraper with brushes that gets a lot of use use may need the brushes replaced more often than you might think, so make sure this is something that is practical and easy to do.
What is the boot scraper made of? Common materials they are made of include cast iron and concrete, but other materials are also used. Heavier materials help to make sure the scraper doesn't move around during rough scraping, but might also add significantly to the shipping cost.
Can the boot scraper be rinsed off and/or painted as needed?
How is the boot scraper placed? Some are free-standing: You simply set them down and they're ready to use. Others have legs that require being pushed down into the dirt, and some are made to be screwed or bolted into wood or concrete. Don't accidentally get a boot scraper that isn't suitable for where you plan on using it.
How big is the boot scraper? Try to get actual inch measurements for the overall size of the scraper, as well as for the size of boot or shoe the scraping surface will accommodate. Some smaller scrapers are a handy size, but might be designed to handle narrower shoes instead of larger, wider, cowboy boots. Also, some boot scrapers are extra long to allow for more than one person scraping their boots at a time.
Some boot scrapers on eBay are described as "antique," "vintage," or "collectible." Unfortunately, some eBay sellers use these terms a bit too loosely. If it is important to you that a boot scraper actually be antique, vintage, or collectible, read the description carefully, study the photographs closely, check the seller's feedback rating, and determine for yourself if these terms accurately describe the scraper.
Where will the boot scraper be shipped from? How much will the shipping be? Some boot scrapers are heavy and/or bulky, so be sure you aren't caught off guard with the total cost after the shipping charges are added onto the purchase price.
Will the seller ship to your location? Is shipping insurance required or optional? What forms of payment does the seller accept?
How soon do you have to pay for your purchase? Some eBay sellers are getting tired of buyers who take a long time to pay for their item. Some of these sellers are now requiring the item be paid for within a certain time frame or the sale is off. Read the item's description for acceptable payment times and terms.
Can the boot scraper be returned? Don't just assume it can be; each eBay seller has their own policies. If the boot scraper can be returned how, and when, will you be refunded? Will you be refunded for the full amount? What about shipping charges?
If you have any questions about a boot scraper for sale on eBay be sure to contact the seller and ask any questions before you bid or buy.
---
Pictures Of Boot Scrapers
Below: A boot scraper with brushes that are easily removed and replaced. The yellow arrows are pointing to small bolts that were placed through holes drilled through the brushes. The brushes you see in the photo were bought at a local discount store to replace the original brushes when they were too worn to be useful.
Below: A metal boot scraper with horseshoe accents, but without brushes. These are useful for cleaning the bottom of boots or shoes, but aren't much help for mud or dirt on the sides.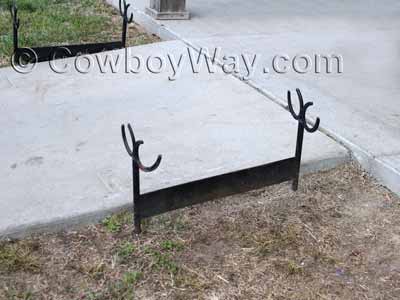 Below: A well-used Scrusher brand boot scraper with brushes mounted to a board, with a boot puller added to the side.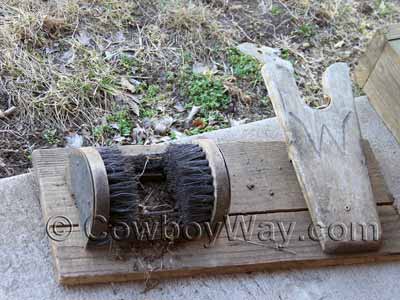 You Might Also Like...
Art
Bathroom
Car Mats
Ceiling Fans
Chairs
Chandeliers
Cowboy Night Light

Lighted steer head

Cowhide
Cow Skulls
Dry Erase Boards
Glass
Napkins
Office
Party Supplies
Rugs
Shower Curtains
Table
Tapestries
Wagon Wheels
Wall Decals
Wallpaper
Wedding