Belt Buckle Display Cases
When they're not being worn, belt buckles are often kept in attractive display cases or on buckle stands.
In the United States and across the world, belt buckles have evolved from being merely functional to a form of art. A display case or stand is a great way to showcase trophy buckles won in competition, or other beautiful buckles.
Display cases as well as stands come in different sizes for holding single or multiple belt buckles. Below are belt buckle display cases and stands for sale.
Below: A trophy belt buckle. When not being worn, belt buckles are often showcased in cases or on stands.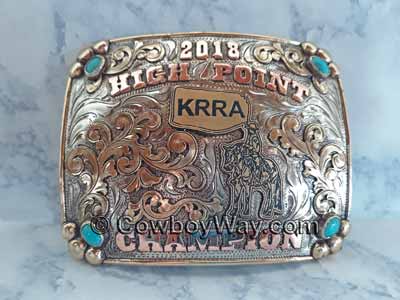 ---
From eBay, Etsy, and Amazon
See more belt buckle display cases on Etsy
See more belt buckle display cases on eBay
---
A Little Bit Of Belt Buckle History
Most accounts we have found on the history of the belt buckle state that metal belt buckles came into use around 2,000 years ago in Rome and China. Their most common early uses are typically attributed to soldiers.
During these early periods of using belts and belt buckles, trousers did not have belt loops. This meant, for the most part, that belts and buckles were most commonly used for decorative use as opposed to being an item to hold up trousers. In the military, different styles of belts and/or buckles were sometimes used as an indicator of rank.
While early belts and metal buckles were commonly used for decorative purposes, there are also historical accounts of them being used by seaman who needed a way to keep their water-soaked trousers from being pulled down. We were unable to find if the belts were simply cinched tightly over high-waisted pants, or if some other method was used.
Belts and Belt Buckles In The United States
In 1922 the popular and influential Levi Strauss Company, founded in San Francisco, California in 1853, introduced their first garments with belt loops. The early belt loops were included as "extras" on overalls and denim trousers (later known as "blue jeans") that already had suspender buttons and/or "cinch backs" to adjust fit. This new, widespread use of belt loops now made belts an easy option for those who chose to wear them.
With the advent of World War II (1939-1945) garments began being made without suspender buttons or cinch backs, and with belt loops only, in order to save as many resources as possible for the war effort. At the end of the war, belt loops, and therefore belts and buckles, were here to stay.
Below: A trophy belt buckle. Many belt buckles have surpassed mere function to become a recognized form of art.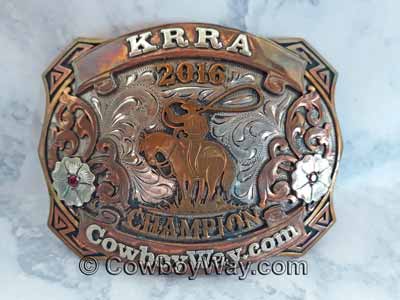 ---
Save The Buckle Case For Later
If you find a belt buckle case on Etsy that you like but you're not ready to purchase it right away, you can always add it to your shopping cart so it will be easy to find later.
In most cases, Etsy will keep track of items in your cart for 30 days.
In the meantime, if you want to check out with other items you can click on "Save for later" to move specific items to a separate, but still easy-to-find list beneath your shopping cart.
Also, if you put items into your Etsy shopping cart but don't check out after 30 days, Etsy will automatically move your items to the "Save for later" area beneath your cart. When you're ready to actually purchase any of these items, simply click "Move to cart" to put them back into your shopping cart and check out.
Important: Putting items in your Etsy shopping cart or "Save for later" list does NOT reserve them! It just makes them easier to find if they're still available when you come back.
Below: Screenshot image showing the "Save for later" and "Remove" links when an item is in the Etsy shopping cart.
You Might Also Like...
Art
Bathroom
Car Mats
Ceiling Fans
Chairs
Chandeliers
Cowboy Night Light

Lighted steer head

Cowhide
Cow Skulls
Dry Erase Boards
Glass
Napkins
Office
Party Supplies
Rugs
Shower Curtains
Table
Tapestries
Wagon Wheels
Wall Decals
Wallpaper
Wedding