Carved Animal Skulls
A beautifully carved animal skull is a genuine work of art. Below are carved skulls for sale from a variety of animals including cattle, sheep, and more. The skulls are both real and faux.
The art of ornately carving or engraving bone, teeth, ivory, shells, or sometimes other animal parts (such as horns) is called "scrimshaw." However, not everyone is familiar with the word and most people simple call carved bones or skulls, well, carved bones or skulls.
Below: A carved horn in the Indiana State Museum. Carved horn, skulls, and other items are called "scrimshaw."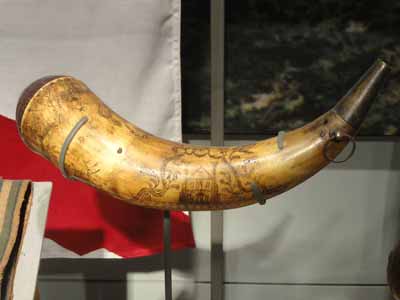 For good things to know before buying a carved skull please scroll down beneath the items for sale.
---
From eBay, Etsy, and Amazon
See more carved animal skulls on Etsy
See more carved animal skulls on eBay
---
Good Things To Know Before Buying A Carved Animal Skull
Below are a few good things to know before buying a carved animal skull on the Web or anywhere else.
Below: A carved whale's tooth.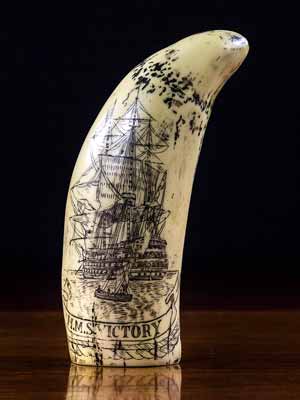 What kind of animal skull is it (cow, sheep, buffalo, etc.)? You should be able to tell by looking at it, but sometimes looks can be confusing. Make sure read the description to know what kind of skull it is.
Is the skull real or faux? Both are popular and for sale on the Web.
If the skull has horns, are they real or faux? Usually, a real skull has real horns, but not always. Even if the skull has faux horns you might not care: They are often very realistic.
If the skull has horns don't be surprised if they're detached from the skull for shipment. If they are, you will need to re-attach them back onto the skull when it arrives. Most sellers make this easy to do, but if in doubt ask the seller about this before you buy.
How much will the shipping charges be? With many items that are for sale on the Web these days shipping charges are included in the price, but not always. Since a carved animal skull can be costly to ship, make sure you know if shipping charges are included or extra. If they're extra, make sure you know how much they will be.
How soon after you make your purchase will the seller to ship your skull? Most of the skulls we've seen are ready to ship and are sent to you within a day or two of placing your order. However, all sellers are different and have different shipping schedules so it's always good to know when they plan on shipping your order.
How long will it take for the skull to arrive? Don't take for granted that the skull will be shipped from within the USA. It might be, but it might also be coming from an international seller. Make sure you know where the skull will be coming from and approximately how long it will take to arrive.
---
Save The Skull For Later
If you find a carved skull you like on Etsy but you're not ready to purchase it right away, you can always add it to your shopping cart so it will be easy to find later.
In most cases, Etsy will keep track of the items in your shopping cart for 90 days.
Later on, if you decide you don't want the items after all, it's easy to click "delete" and remove them from your cart.
In the meantime, if you want to check out with other items, click "Save for later" to move the items to a separate, but still easy-to-find list beneath your shopping cart.
Important: Putting an item in your Etsy shopping cart or "Save for later" list does NOT reserve it! It just makes it easier to find if it's still in stock when you come back.
Below: Screenshot image showing the "delete" and "Save for later" links when an item is in the Amazon shopping cart.

You Might Also Like...
Art
Bathroom
Car Mats
Ceiling Fans
Chairs
Chandeliers
Cowboy Night Light

Lighted steer head

Cowhide
Cow Skulls
Dry Erase Boards
Glass
Napkins
Office
Party Supplies
Rugs
Shower Curtains
Table
Tapestries
Wagon Wheels
Wall Decals
Wallpaper
Wedding