Western Shower Curtains
Below are Western-themed shower curtains and related accessories for sale on eBay.
---
From eBay and Etsy
See more Western shower curtains on Etsy
See more Western shower curtains on eBay
---
Western Shower Curtains: Good Things To Know Before You Buy
Here are some things you may want to know before you buy a shower curtain:
What size (width and height) shower curtain do you need? If you have a standard-sized, 60-inch-long bathtub the most common sizes for shower curtains are 70 inches wide X 70 inches tall, or 72 inches wide X 72 inches tall.
What is the shower curtain made of (synthetic materials or natural materials)?

Synthetic shower curtains are made from such materials as vinyl, plastic, nylon and polyester. These shower curtains are often reasonably priced and are easy to care for. They also repel water which means they dry quickly and its more difficult for mildew to form on them than some other materials.
Shower curtains made from natural materials such as cotton, linen, or silk are often more expensive than shower curtains made from synthetic materials, but they often offer a luxurious look and feel. They are more difficult to care for than synthetic materials, partly because they don't repel water and may be slow to dry and prone to mildew, soap scum build up, and discolorations. They are usually used with a liner, even if the shower curtain itself has a built-on liner or sealed layer.

Does the shower curtain need a liner? If so, does it come with one or do you have to purchase one separately?

In general, many (but not all) synthetic shower curtains do a good job of keeping the water inside the tub and will not need a liner. To know for sure read the manufacturers suggestions (if any) and/or test the curtain without a liner to see how water resistant it is.
Natural material shower curtains almost always need a liner.

Hint: To use a shower curtain with a liner: The liner falls inside the tub, and the shower curtain falls outside the tub.
Does the Western shower curtain come with hooks for attaching it to the rod, or do you have to purchase them separately? (Hint: It's common to have to purchase them separately.)
Does the shower curtain have matching accessories you can purchase to go with it?
Is it machine washable?
Below: A shower curtain with a cowboy roping.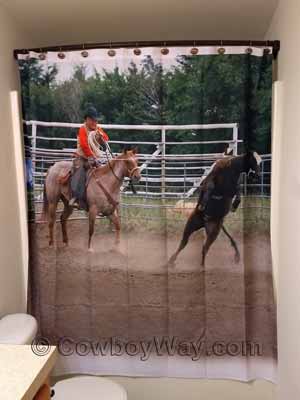 ---
Save The Shower Curtain For Later
If you find a shower curtain for sale on Etsy that you like but you're not ready to purchase it right away, you can always add it to your shopping cart so it will be easy to find later.
In most cases, Etsy will keep track of items in your cart for 30 days.
In the meantime, if you want to check out with other items you can click on "Save for later" to move specific items to a separate, but still easy-to-find list beneath your shopping cart.
Also, if you put items into your Etsy shopping cart but don't check out after 30 days, Etsy will automatically move your items to the "Save for later" area beneath your cart. When you're ready to actually purchase any of these items, simply click "Move to cart" to put them back into your shopping cart and check out.
Important: Putting items in your Etsy shopping cart or "Save for later" list does NOT reserve them! It just makes them easier to find if they're still available when you come back.
Below: Screenshot image showing the "Save for later" and "Remove" links when an item is in the Etsy shopping cart.
You Might Also Like...
Art
Bathroom
Car Mats
Ceiling Fans
Chairs
Chandeliers
Cowboy Night Light

Lighted steer head

Cowhide
Cow Skulls
Dry Erase Boards
Glass
Napkins
Office
Party Supplies
Rugs
Shower Curtains
Table
Tapestries
Wagon Wheels
Wall Decals
Wallpaper
Wedding