Real and Faux Antler Towel Racks
Beautiful antler towel racks can add just the right touch to bathrooms, kitchens, and other rooms.
The antlers in a towel rack might be either real or faux. If one or the other matters to you, be sure to read the towel rack's description carefully: It can often be difficult to tell the difference just by looking at the photos.
You might also like Antler Lamps or Antler Chandeliers.
Below: An antler towel rack with two antlers. They are mounted on a pine board finished with a natural stain.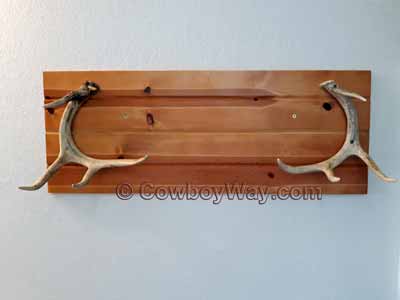 For good things to know before buying an antler towel rack, please scroll down beneath the items for sale.
---
From eBay, Etsy, and Amazon
Below are (mostly) antler towel racks for sale. We say "mostly" because a few other items made with antlers sometimes appear, too.
See more antler towel racks on Etsy
See more antler towel racks on eBay
---
Good Things To Know Before Buying An Antler Towel Rack
Below are a few good things to know before buying a towel rack with antlers on the Web or anywhere else.
Are the antlers real or imitation (faux)? As we mentioned above, you can't always tell the difference simply by looking at photos. Some faux antlers, like ones made of resin, often look so realistic that you might not care whether or not they're real. If you do, though, be sure to read the description carefully.
On the other hand, some towel racks have "antlers" made of iron or some other metal. This is usually pretty obvious just by looking at the photos.
Does the towel rack come ready for mounting? Is the mounting hardware already on the back of the rack, or included with the purchase for you to attach? Are screw and/or other mounting accessories included?
What size (length, width, and thickness) is the rack? Will it fit where you would like to place it?
How much does the antler towel rack weigh? Will the surface you intend to hang it on support its weight?
How long will it be after you place your order before you receive your towel rack?
Is shipping included in the price, or is it extra?
Does the seller accept returns?
Below: The same towel rack as shown above, this time with towels hanging on the antlers.
---
Fast, Fun Antler Facts
Many (most?) decorative items made from real antlers are made from what is commonly called "sheds." A "shed" is an antler that has fallen off of a deer naturally during the annual growth, shed, and re-grow cycle.
Horns are different than antlers in several ways. One of the main ways is that horns are a permanent part of the animal. Antlers, however (and like we mentioned a moment ago), are grown, shed, and re-grown by the animal on an annual cycle.
Many people collect antler sheds, but they can be difficult to find. Once an antler is shed from the animal and laying on the ground lots of critters love to eat them including mice, squirrels, porcupines, foxes, and more.
Below: A collection of shed antlers. Many people collect sheds.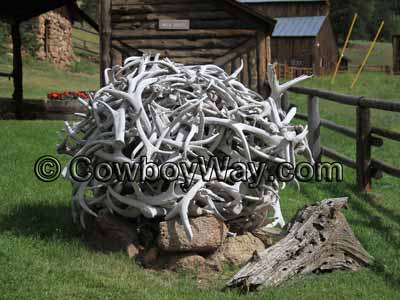 ---
Save The Towel Rack For Later
If you find an antler towel rack you like on Etsy but you're not ready to purchase it right away, you can always add it to your shopping cart so it will be easy to find later.
In most cases, Etsy will keep track of the items in your shopping cart for 90 days.
Later on, if you decide you don't want the items after all, it's easy to click "delete" and remove them from your cart.
In the meantime, if you want to check out with other items, click "Save for later" to move the items to a separate, but still easy-to-find list beneath your shopping cart.
Important: Putting an item in your Etsy shopping cart or "Save for later" list does NOT reserve it! It just makes it easier to find if it's still in stock when you come back.
Below: Screenshot image showing the "Save for later" and "Remove" links when an item is in the Etsy shopping cart.
You Might Also Like...
Art
Bathroom
Car Mats
Ceiling Fans
Chairs
Chandeliers
Cowboy Night Light

Lighted steer head

Cowhide
Cow Skulls
Dry Erase Boards
Glass
Napkins
Office
Party Supplies
Rugs
Shower Curtains
Table
Tapestries
Wagon Wheels
Wall Decals
Wallpaper
Wedding