Faux Leather Lamp Shades
Faux leather, as opposed to genuine leather, is an excellent choice in a lamp shade.
Below are faux leather lamp shades for sale. The selection is usually excellent with shades available in a wide variety of sizes and styles.
Faux leather provides a realistic appearance while being durable, often withstanding scrapes, scuffs, etc. that would damage real leather. It is also low maintenance and provides the look and feel of real leather at a more affordable price.
Below: A faux leather lamp shade on a wooden lamp.
---
From eBay, Etsy, and Amazon
See more faux leather lamp shades on Etsy
See more faux leather lamp shades on eBay
---
---
What Is Faux Leather?
Since the word "faux" means false, artificial, and/or not genuine, faux leather is false, or imitation, leather. However, that's not not necessarily a bad thing and can often be a good thing.
Faux leather lamp shades, for example, have several advantages over real leather. A few of these advantages include:
Price - Faux leather is typically more affordable in a lamp shade, often by a wide margin.
Availability - Genuine leather lamp shades can be difficult to find, particularly when you narrow the choices down by size and style. Faux leather lamp shades, on the other hand, are comparatively easy to find and are available in a variety of sizes and styles.
Durability - Faux leather shades are quite durable, and often withstand scratches, scuffs, and scrapes without noticeable damage that would mar the appearance of a real leather shade.
Maintenance - Real leather lamp shades require periodic cleaning and conditioning to be maintained, otherwise they could crack, split, or dry out. Faux leather shades, on the other hand, require far less maintenance, with a quick wipe from a dry cloth often being all that is necessary to maintain their good looks.
---
Lamp Shades and Lamp Harps
When shopping for lamp shades you will occasionally run across the term "harp." So, what is a lamp harp?
The harp of a lamp is a structure the shade is attached to. The harp is attached to the lamp and is often made of a lightweight metal. It typically has a slight bow to it in order to go around the bulb. The lamp shade fits over the lamp harp.
Below: The yellow arrow is pointing to the harp on a lamp.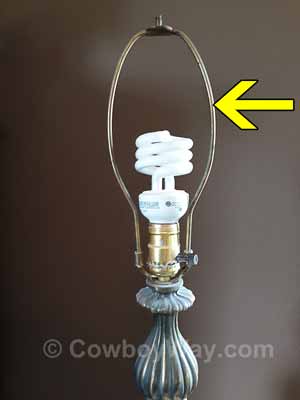 Not all lamps have harps, by the way. Although they are very common, some lamps have designs that don't use them.
---
Save The Lamp Shade For Later
If you find a faux leather lamp shade for sale on Etsy that you like but you're not ready to purchase it right away, you can always add it to your shopping cart so it will be easy to find later.
In most cases, Etsy will keep track of items in your shopping cart for 30 days.
In the meantime, if you want to check out with other items you can click on "Save for later" to move specific items to a separate, but still easy-to-find list beneath your shopping cart.
If you put items into your Etsy shopping cart but don't check out after 30 days, Etsy will automatically move them to the "Save for later" area beneath your cart. When you're ready to actually purchase any of these items, simply click "Move to cart" to put them back into your shopping cart and check out.
Important: Putting items in your Etsy shopping cart or "Save for later" list does NOT reserve them! It just makes them easier to find if they're still available when you come back.
Below: Screenshot image showing the "Save for later" and "Remove" links when an item is in the Etsy shopping cart.
You Might Also Like...
Art
Bathroom
Car Mats
Ceiling Fans
Chairs
Chandeliers
Cowboy Night Light

Lighted steer head

Cowhide
Cow Skulls
Dry Erase Boards
Glass
Napkins
Office
Party Supplies
Rugs
Shower Curtains
Table
Tapestries
Wagon Wheels
Wall Decals
Wallpaper
Wedding