Western Bath Towels
Below are cowboy and Western towels for sale from different sellers across the Web. The selection is usually excellent and wide-ranging, with an assortment of kitchen, bath, and beach towels.
You might also like: Cowboy Towel Racks.
Below: A Western decorated bathroom with log walls and matching towels.
---
From eBay, Etsy, and Amazon
See more Western towels on Etsy
See more Western towels on eBay
---
About Terrycloth Towels
As you've probably noticed, many of the Western towels on this page are described as "terrycloth" towels. So, what is terrycloth?
Terrycloth is a fabric created so that there are many loops of thread exposed on the surface. These loops create a lot of exposed surface area, and they contribute to making a terrycloth towel highly absorbent and eager to wick water off of surfaces - like people who've just finished a bath or shower. The loops are so small that you usually can't even see that they are loops unless you look at them very closely.
Below: A close up image of a terrycloth towel.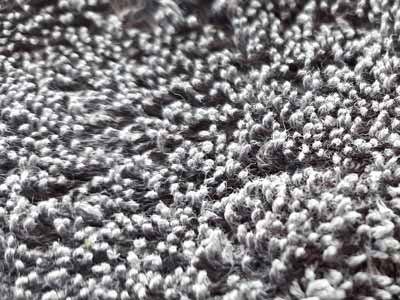 Terrycloth is not only highly absorbent, it's typically very soft, too. It's a highly popular fabric for bath towels, robes, and other items where absorption and softness are important.
---
Save The Towels For Later
If you find Western towels for sale on Etsy that you like but you're not ready to purchase them right away, you can always add them to your shopping cart so they will be easy to find later.
In most cases, Etsy will keep track of items in your shopping cart for 30 days.
In the meantime, if you want to check out with other items you can click on "Save for later" to move specific items to a separate, but still easy-to-find list beneath your shopping cart.
If you put items into your Etsy shopping cart but don't check out after 30 days, Etsy will automatically move them to the "Save for later" area beneath your cart. When you're ready to actually purchase any of these items, simply click "Move to cart" to put them back into your shopping cart and check out.
Important: Putting items in your Etsy shopping cart or "Save for later" list does NOT reserve them! It just makes them easier to find if they're still available when you come back.
Below: Screenshot image showing the "Save for later" and "Remove" links when an item is in the Etsy shopping cart.
You Might Also Like...
Art
Bathroom
Car Mats
Ceiling Fans
Chairs
Chandeliers
Cowboy Night Light

Lighted steer head

Cowhide
Cow Skulls
Dry Erase Boards
Glass
Napkins
Office
Party Supplies
Rugs
Shower Curtains
Table
Tapestries
Wagon Wheels
Wall Decals
Wallpaper
Wedding