Log Benches
A log bench adds a perfect "country" or rustic look whether it's used inside or outside.
Below are indoor and/or outdoor log benches for sale on eBay and Amazon. For good things to know before buying a log bench please scroll down beneath the items for sale.
Below: An unusually large, one-piece log bench created from a single large log.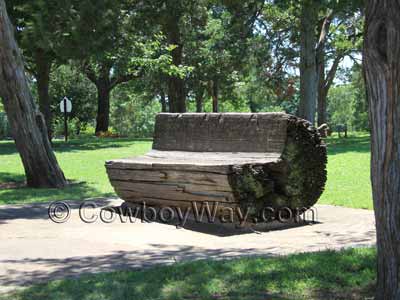 ---
From eBay, Etsy, and Amazon
---
Log Benches - Good Things To Know Before You Buy
Before are a few good things to know before buying a log bench.
Is the log bench new or used? If it's used, does the seller know much about it such as its age, type of wood it's made from, etc.?
Exactly what part of the bench is made of logs? The seat? The legs? Some benches are described as "log benches" when they're not entirely made of logs. These can still be very attractive but may, or may not, be what you're looking for.
What are the dimensions of the bench? Will it fit where you would like to place it?
Below: A log bench with a split-log seat, horizontal log legs, and a split-log back.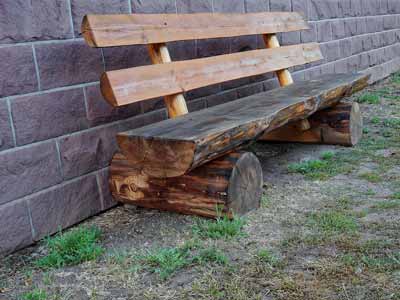 What type of wood/logs is the bench made from?
Does the seller mention of the bench is for indoor use only, or if it can be used outdoors, too?
How much does the log bench weigh? Is it a suitable weight for you move it around it you need to?
How much weight can it hold?
Is the log bench already made and ready to ship, or will it be made after you place your order? It it won't be made until you place your order how long will it take to make and ship it?
Is it already painted, stained, or varnished, or is it unfinished? An unfinished bench might be just what you want so you can finish it just the way you like. On the other hand, if you don't have time for a small project you might prefer to order a finished bench.
Does the bench arrive assembled or unassembled? If unassembled, does the seller mention what it will take to put it together? If hardware is required, is it included?
Is shipping included in the price or will it be extra? If it's extra, how much will it be?
Is insurance included in your purchase or will it be extra?
How will the log bench be shipped?
Does the seller accept returns? If so, what are the conditions required to make a return?
Below: A black-and-white photo of a log bench overlooking the Woodstock Valley near Woodstock, Vermont.
---
Save The Bench For Later
If you find a log bench for sale on Etsy that you like but you're not ready to purchase it right away, you can always add it to your shopping cart so it will be easy to find later.
In most cases, Etsy will keep track of items in your cart for 30 days.
In the meantime, if you want to check out with other items you can click on "Save for later" to move specific items to a separate, but still easy-to-find list beneath your shopping cart.
Also, if you put items into your Etsy shopping cart but don't check out after 30 days, Etsy will automatically move your items to the "Save for later" area beneath your cart. When you're ready to actually purchase any of these items, simply click "Move to cart" to put them back into your shopping cart and check out.
Important: Putting items in your Etsy shopping cart or "Save for later" list does NOT reserve them! It just makes them easier to find if they're still available when you come back.
Below: Screenshot image showing the "Save for later" and "Remove" links when an item is in the Etsy shopping cart.
You Might Also Like...
Art
Bathroom
Car Mats
Ceiling Fans
Chairs
Chandeliers
Cowboy Night Light

Lighted steer head

Cowhide
Cow Skulls
Dry Erase Boards
Glass
Napkins
Office
Party Supplies
Rugs
Shower Curtains
Table
Tapestries
Wagon Wheels
Wall Decals
Wallpaper
Wedding