Barn Wood Shutters
Barn wood shutters are decorative shutters made (or at least appear to be made) from the wood of an old barn.
They are usually used as interior decor as opposed to using them to cover and/or protect a window. Barn wood shutters are distinguished from "regular" wooden shutters by the aged, weathered appearance of the wood. They add a warm, beautiful accent to a room, whether hung near a window or simply displayed on a wall.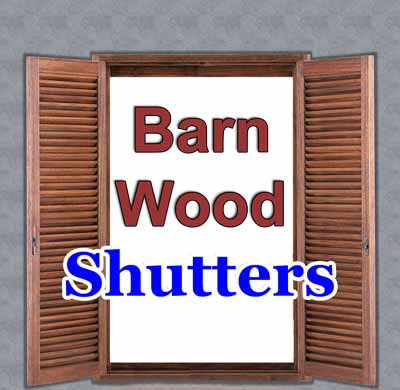 ---
From eBay and Etsy
See more barn wood shutters on Etsy
See more barn wood shutters on eBay
---
Below: Aged wooden barns such as this one are prized for the beautifully weathered wood they contain. Sadly, much of the wood in old barns is burned, hauled off, or left to rot. Some of it though, is reclaimed and repurposed into beautiful furniture, shutters, or other items.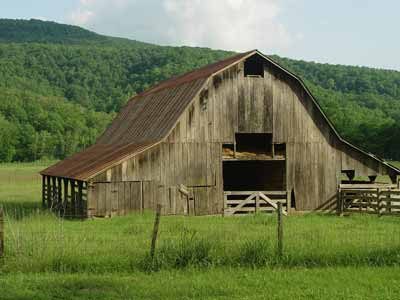 ---
Barn Wood Shutters: Good Things To Know Before You Buy
Below are a few good things to know before purchasing barn wood shutters.
What is their intended purpose? Most barn wood shutters we've seen on Amazon, eBay and Etsy are meant for use indoors for decorating purposes. However, you can occasionally find some that are intended for use as "real" shutters, that is, to cover windows during inclement weather.
Are the shutters shown in the photo(s) the actual shutters you will receive? Hint: Often not. Many sellers use photos of shutters they've made or sold in the past as a representation of the shutters they're selling now. Other sellers, though, use photos of the actual shutters that are currently available.
How big are the shutters? You'll probably want to know width and height, as well as approximately how thick they are.
How heavy are they? Will the location you plan on hanging them support their weight?
Do the shutters come ready to hang, or is some assembly required? Do they come with hangers attached, or will you need to attach your own hangers?
Are the barn wood shutters already built and ready to ship, or will they be built after you place your order? If they'll be built after you place your order, how long will it take for the seller to build them and ship them to you?
Just how "barn woody" are the barn wood shutters? The typical definition of "barn wood" describes a wood that is weathered and that shows imperfections such as knot holes, nail holes and/or hammer marks, and other signs of age and use. This is the nature of barn wood and these imperfections are not only not considered to be defects, but are the primary reason barn wood is viewed as attractive and distinct from other types of newer-looking wood. With that being said, there can be differences in the appearance of barn wood with some of it being rougher and/or more rustic in appearance than others. Read the description and look at the photos to get an idea of how rustic - or not - any particular pair of barn wood shutters you are interested in might be.
Will the seller ship to your location? Is shipping included in the price or will it be extra? If extra, how much will it be?
Does the seller accept returns? If so, what are the conditions for the return? Will their be a re-stocking fee?
Below: Not all barn wood is its natural color. Some of it has been painted or stained and still shows beautiful traces of color.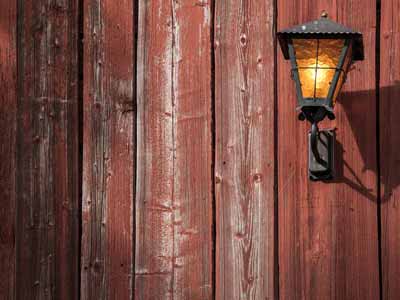 ---
Save The Shutters For Later
If you find barn wood shutters for sale on Etsy that you like but you're not ready to purchase right away, you can always add them to your shopping cart so they will be easy to find later.
In most cases, Etsy will keep track of your shutters, and anything else in your shopping cart, for 30 days.
In the meantime, if you want to check out with other items you can click on "Save for later" to move the items to a separate, but still easy-to-find list beneath your shopping cart.
If you put items into your Etsy shopping cart but don't check out after 30 days, Etsy will automatically move them to the "Save for later" area beneath your shopping cart. When you're ready to actually purchase any of these items, simply click "Move to cart" to put them back into your shopping cart and check out.
Important: Putting items in your Etsy shopping cart or "Save for later" list does NOT reserve them! It just makes them easier to find if they're still available when you come back.
Below: Screenshot image showing the "Save for later" and "Remove" links when an item is in the Etsy shopping cart.
You Might Also Like...
Art
Bathroom
Car Mats
Ceiling Fans
Chairs
Chandeliers
Cowboy Night Light

Lighted steer head

Cowhide
Cow Skulls
Dry Erase Boards
Glass
Napkins
Office
Party Supplies
Rugs
Shower Curtains
Table
Tapestries
Wagon Wheels
Wall Decals
Wallpaper
Wedding