Cowhide Coasters
Below are drink coasters made of cowhide for sale.
It's worth mentioning that most cowhide coasters are hair-on-hide; that is, the hair has been left on them. Sometimes, though, you can find coasters called "cowhide" that have had the hair removed. Neither definition (hair-on-hide or hair removed) is right or wrong: It's simply a matter of how different people describe them.
You might also like: Cowhide Placemats.
Below: Three cowhide coasters.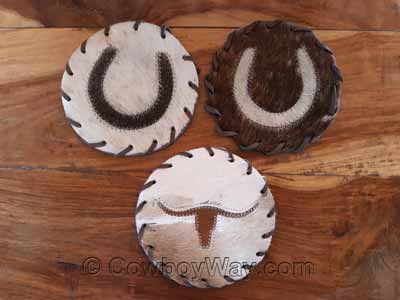 ---
From eBay, Etsy, and Amazon
See more cowhide coasters on Etsy
See more cowhide coasters on eBay
---
What Are Coasters Used For?
A coaster, also called a "drink coaster" is used under drinking glasses (or some other type of drinking vessel). It's purpose is to proctect furniture, tablecloths, or other surface from the bottom of the drinking glass.
Coasters help prevent wear-and-tear on furniture, and also help prevent damage from minor spills or condensation.
Coasters are made from a wide variety of materials, including cowhide like the ones on this page. In some cases, napkins are used as coasters, as are saucers.
Below: A cloth coaster.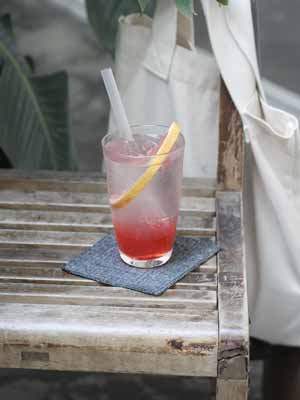 ---
Why Are Coasters Called, Well, Coasters?
Historians tell us that the first known coasters were in use in the 1700s. At that time, they were commonly used for decanters or wine bottles. Items placed on the coaster could then be easily slid, or coasted, around the table.
---
Save The Coasters For Later
If you find cowhide coasters you like on Etsy but you're not ready to purchase them right away, you can always add them to your shopping cart so they will be easy to find later.
In most cases, Etsy will keep track of the items in your shopping cart for 90 days.
Later on, if you decide you don't want the items after all, it's easy to click "delete" and remove them from your cart.
In the meantime, if you want to check out with other items, click "Save for later" to move the items to a separate, but still easy-to-find list beneath your shopping cart.
Important: Putting an item in your Etsy shopping cart or "Save for later" list does NOT reserve it! It just makes it easier to find if it's still in stock when you come back.
Below: Screenshot image showing the "Save for later" and "Remove" links when an item is in the Etsy shopping cart.
You Might Also Like...
Art
Bathroom
Car Mats
Ceiling Fans
Chairs
Chandeliers
Cowboy Night Light

Lighted steer head

Cowhide
Cow Skulls
Dry Erase Boards
Glass
Napkins
Office
Party Supplies
Rugs
Shower Curtains
Table
Tapestries
Wagon Wheels
Wall Decals
Wallpaper
Wedding