Horseshoe Wreaths
Decorative horseshoe wreaths for sale.
Most of the wreaths below are wreath-shaped (round) with horseshoes incorporated into their design, while other are horseshoe-shaped.
You can usually find horseshoe wreaths meant for display any time of year, but you can also find Christmas horseshoe wreaths, especially closer to the holiday season. For more information on wreaths in general, please scroll down beneath the items for sale.
Below: A rustic wreath made from branches.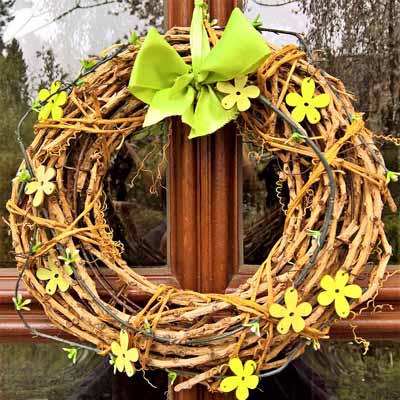 ---
From eBay, Etsy, and Amazon
See more horseshoe wreaths on Etsy
See more horseshoe wreaths on eBay
---
About Wreaths
A wreath is a form of decoration. They are typically round and come in a variety of sizes from small to very large.
At one time wreaths were mostly made from a combination of natural materials such as branches, evergreen boughs, flowers, etc., but today they are commonly made from a variety of different materials, natural and/or manmade, including horseshoes.
Wreaths are commonly used to decorate all throughout the year, and for decorating during special times such as holidays, celebrations, or somber occasions such as funerals.
---
About The Horseshoes In a Horseshoe Wreath
The horseshoes in a horseshoe wreath may or may not be made from real horseshoes, that is, shoes made for the purpose of putting on the hoof of a horse. A lot of wreaths are made from real horse shoes, but some are made from a craft type of horseshoe made for making decorative items. That's not necessarily a bad thing, though. A craft type of horseshoe can still be a quality product that looks great in a wreath or item made for decorating.
Below: Used and new horseshoes hanging on a feed room door. The used horseshoes are on the left, new ones on the right.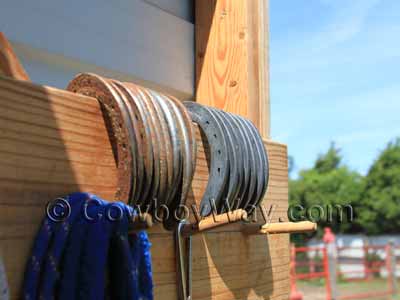 Below: A collection of used horseshoes. Many of these still have the horseshoe nails in them from when they were pulled off of the horse's hooves.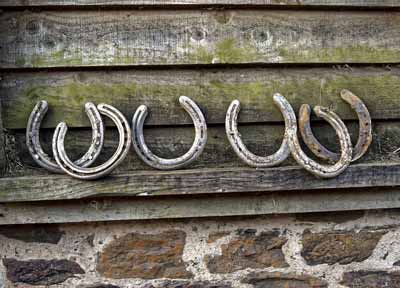 ---
Save The Wreath For Later
If you find a horseshow wreath for sale on Etsy that you like but you're not ready to purchase it right away, you can always add it to your shopping cart so it will be easy to find later.
In most cases, Etsy will keep track of the items in your shopping cart for 30 days.
In the meantime, if you want to check out with other items you can click on "Save for later" to move specific items to a separate, but still easy-to-find list beneath your shopping cart.
Also, if you put items into your Etsy shopping cart but don't check out after 30 days, Etsy will automatically move your chandelier (or other items) to the "Save for later" area beneath your cart. When you're ready to actually purchase any of these items, simply click "Move to cart" to put them back into your shopping cart and check out.
Important: Putting items in your Etsy shopping cart or "Save for later" list does NOT reserve them! It just makes them easier to find if they're still available when you come back.
Below: Screenshot image showing the "Save for later" and "Remove" links when an item is in the Etsy shopping cart.
You Might Also Like...
Art
Bathroom
Car Mats
Ceiling Fans
Chairs
Chandeliers
Cowboy Night Light

Lighted steer head

Cowhide
Cow Skulls
Dry Erase Boards
Glass
Napkins
Office
Party Supplies
Rugs
Shower Curtains
Table
Tapestries
Wagon Wheels
Wall Decals
Wallpaper
Wedding