Wild Horse Sofas
Below are sofas with wild horse designs for sale.
There is sometimes confusion between the words "sofa" and "couch", but for the most part the two words usually mean the same thing. For more information please scroll down beneath the items for sale.
Below: Bureau of Land Management (BLM) wild horses.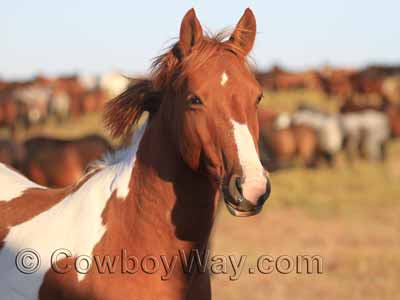 ---
From eBay and Amazon
See more wild horse sofas on eBay
See more wild horse sofas on Amazon
---
Wild Horses, Sofas, and Couches - Oh My!
There can be some confusion between the words "sofa" and "couch" (kind of like the confusion between "dinner" and "supper" - we still haven't figured that one out).
To the best of our knowledge there's no hard and fast rule saying the words sofa and couch have different meanings, but there's nothing that says they're exactly the same, either.
In general, both the words sofa and couch refer to a piece of furniture that is upholstered, padded, and used for seating more than one person.
Most people use the terms interchangeably, with, perhaps, a small exception: When speaking formally, or when referring to a formally decorated room, some people tend to use the word "sofa." Conversely, when speaking casually or when referring to a casually decorated room, some folks use the word "couch."
That's it. The differences between sofa and couch, at least for most people, don't go any deeper than that.
Below: A sofa...at least, probably. This is a formal piece of furniture so some of us would call it a sofa. But as far as we know there's nothing wrong with calling it a couch.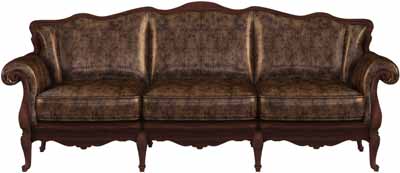 Below: A couch. Or a sofa. It's your choice.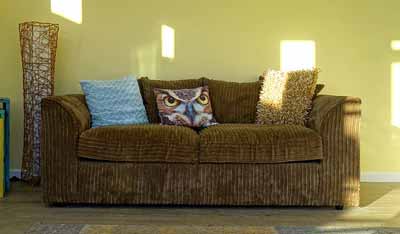 ---
Wild Horse Sofas - Good Things To Know Before You Buy
Below are a few good things to know before buying a sofa / couch.
Is the sofa new or used?
Is it for indoor use only, or can it used outdoors, also?
What type of fabric is the sofa covered in?
Exactly what are you getting? Many times sofas for sale are pictured with other pieces of furniture such as matching loveseats, ottomans, chairs, etc. Just by glancing at the photos you can accidentally get the impression you're getting more than just a sofa with your purchase. And, maybe you are.....furniture is often sold in groups of matching or coordinated items. However, just because those other items are pictured in the photo(s) it doesn't necessarily mean they're part of your purchase. Read the description to know exactly what you are, and are not, getting.
How big is the sofa? Will it fit where you would like to put it? Will it fit through your doors?
If the sofa is a sleeper sofa with a pullout bed, what size is the sleeping area?
Does the seller describe the seating firmness (for example, soft, firm, etc.)?
Will sales tax be added to your purchase price?
How soon after you make your purchase will the sofa be shipped? Sofas are large items, and they often aren't shipped as quickly as other items.
Is shipping included in the price? If not, how much will it be?
Is insurance included in the purchase price or will it be extra?
How will the sofa be shipped? Will it be shipped curbside (aka, to your door) or will you have to make special arrangements?
Does the seller accept returns? If so, what are the conditions required to make a return, and who pays for the return shipping?
Below: Wild horses, aka mustangs, coming toward the camera. Horses have a natural, majestic beauty that makes their likenesses perfect for decorating our homes or businesses.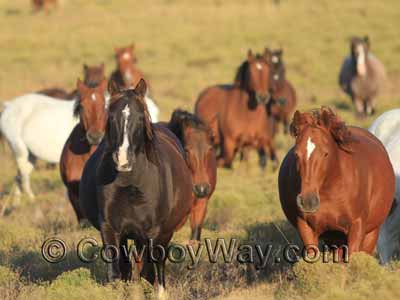 ---
Save The Sofa For Later
If you find a wild horse sofa for sale on Amazon that you like but you're not ready to purchase it right away, you can always add it to your shopping cart so it will be easy to find later.
In most cases, Amazon will keep track of your sofa, and anything else in your shopping cart, for 90 days.
Later on, if you decide you don't want the item(s) after all, it's easy to click "delete" and remove them from your cart.
In the meantime, if you want to check out with other items, click "Save for later" to move the sofa to a separate, but still easy-to-find list beneath your shopping cart.
Important: Putting items in your Amazon shopping cart or "Save for later" list does NOT reserve them! It just makes them easier to find if they're still in stock when you come back.
Below: Screenshot image showing the "delete" and "Save for later" links when an item is in the Amazon shopping cart.

You Might Also Like...
Art
Bathroom
Car Mats
Ceiling Fans
Chairs
Chandeliers
Cowboy Night Light

Lighted steer head

Cowhide
Cow Skulls
Dry Erase Boards
Glass
Napkins
Office
Party Supplies
Rugs
Shower Curtains
Table
Tapestries
Wagon Wheels
Wall Decals
Wallpaper
Wedding