Cowboy Candle Holders
Below are cowboy, Western, and rustic candle holders for sale.
There is usually an excellent selection of different sizes and styles to make beautiful accents for home or business Western decor.
Below: A 3-inch tall (not including the candle) cowboy boot candle holder.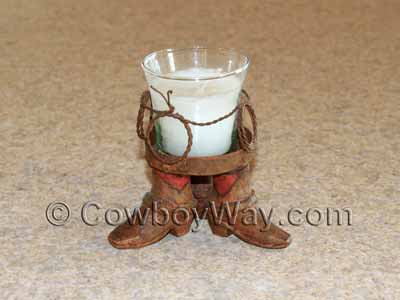 A candle holder decorated with a cowboy. From Amazon.
---
From eBay, Etsy, and Amazon
See more cowboy candle holders on eBay
See more cowboy candle holders on Amazon
---
A Little About The History Of Candles
The history of candles can be difficult to shed light on. (Yes, pun intended. 😃)
First of all, the definition of "candle" can be disputed. For example, various types of torches probably existed before candles did. Some folks consider these a form of candle, while others point out they didn't have a wick and therefore were not a true candle.
The ancient Romans are generally credited as the oldest known users of candles with a wick (date unknown as far as we know), possibly followed by the ancient Egyptians around 3,000 BC. Or maybe the Chinese were the first to use candles, or some other ancient people. Accounts vary.
So, while researching the history of the candle gave us only a very vague starting date, what is better known is their importance: Candles have been loved for their practical and ceremonial uses for centuries.
Today, with modern lighting available at the flick of a switch, the use of candles for many of us is no longer necessary. However, candles are still loved by a lot of people. They lend light when the power is out, and lend a beautiful ambience for home or ceremonial use anytime.
You Might Also Like...
Art
Bathroom
Car Mats
Ceiling Fans
Chairs
Chandeliers
Cowboy Night Light

Lighted steer head

Cowhide
Cow Skulls
Dry Erase Boards
Glass
Napkins
Office
Party Supplies
Rugs
Shower Curtains
Table
Tapestries
Wagon Wheels
Wall Decals
Wallpaper
Wedding