Wagon Wheel Ceiling Fans
Wagon wheel ceiling fans can be the centerpiece of a room, or add just the right finishing touch. They can circulate air slowly or quickly, making any room or area more comfortable. You might also like: Wagon Wheel Chandeliers.
Below are wagon wheel ceiling fans for sae. For good things to know before buying a ceiling fan, please scroll down beneath the fans for sale.
Below: A wooden wagon wheel with a metal rim.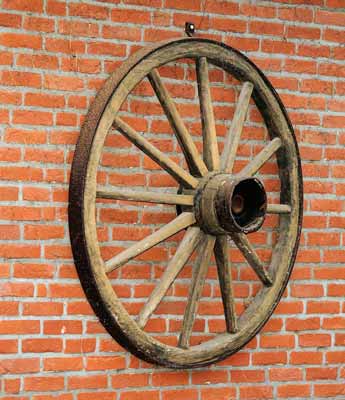 See wagon wheel ceiling fans on Amazon
---
From eBay
In our experience there usually aren't many wagon wheel ceiling fans for sale on eBay. However, their listings change daily and you can use the link below to check.
See wagon wheel ceiling fans on eBay
---
Good Things To Know Before Buying A Wagon Wheel Ceiling Fan
Below are a few good things to know before buying a wagon wheel ceiling fan on the Web or anywhere else.
Is the ceiling fan new or used? Most of the ones we've seen on Amazon and eBay have been new but once in a while you can find a used one.
Is the ceiling fan dry rated, damp rated, or wet rated? As a general rule a dry rating means the fan must stay absolutely dry and is suitable to be hung indoors in areas such as living rooms and bedrooms. A damp rated fan is typically considered suitable to be hung indoors in rooms with high humidity such as bathrooms or laundry rooms. A wet rated ceiling fan is rated for areas that are exposed to the weather, such as porches and gazebos. However, ratings and their definitions may vary. Read the seller's description thoroughly to know where any ceiling fan you might be interested in is suitable to be used.
What size is the fan? With ceiling fans the size is usually considered to be how wide across the fan is from blade tip to blade tip. However, it doesn't hurt to make sure you and the seller are thinking of size in the same way.
How much does the ceiling fan weigh?
How many blades does it have and/or what is the pitch of the blades?
Does it come with lights? Many ceiling fans have a built-in light fixture, but not all. You might want a light with the fan or you might not - just don't assume it does or doesn't have one without making sure.
Is the direction the ceiling fan turns reversible?
Are the blades reversible?
Some ceiling fans come with a remote control while others don't. Does the wagon wheel ceiling ran you're interested have a remote? Do you want or need one?
Is the ceiling fan a flush mount or a downrod mount?

A flush mount ceiling fan is made to hang fairly close to the ceiling. They're great for areas with low or average height ceilings.
A ceiling fan with a downrod mount, however, is meant to be hung in areas with taller ceilings, with the downrod being used as a way to hang the fan closer to the room below.

Whether a wagon wheel ceiling fan is a flush mount or a downrod mount, know how far it will hang down into a room and whether or not you will have enough headroom clearance.
Is shipping included in the price or is it extra? If it's extra, how much will it be?
Does the seller accept returns? If so, will the be a re-stocking fee? Who pays for the return shipping, you or the seller?
Below: Wagon wheels in a variety of sizes.
---
Save The Ceiling Fan For Later
If you find a wagon wheel ceiling fan for sale on Amazon that you like but you're not ready to purchase it right away, you can always add it to your shopping cart so it will be easy to find later.
In most cases, Amazon will keep track of the items in your shopping cart for 90 days.
Later on, if you decide you don't want the fan or other item(s) after all, it's easy to click "delete" and remove them from your cart.
In the meantime, if you want to check out with other items, click "Save for later" to move the chandelier to a separate, but still easy-to-find list beneath your shopping cart.
Important: Putting items in your Amazon shopping cart or "Save for later" list does NOT reserve them! It just makes them easier to find if they're still in stock when you come back.
Below: Screenshot image showing the "delete" and "Save for later" links when an item is in the Amazon shopping cart.

---
You Might Also Like...
Art
Bathroom
Car Mats
Ceiling Fans
Chairs
Chandeliers
Cowboy Night Light

Lighted steer head

Cowhide
Cow Skulls
Dry Erase Boards
Glass
Napkins
Office
Party Supplies
Rugs
Shower Curtains
Table
Tapestries
Wagon Wheels
Wall Decals
Wallpaper
Wedding