Horse Tapestries
A tapestry is a heavy woven cloth, usually with decorative images or designs, intended for hanging on a wall or as some other form of decoration.
The horse tapestries below often show horses at liberty in beautiful, richly colored surroundings. The tapestries with horse artwork below are for sale from different sellers across the Web. Please scroll down for good things to know when buying tapestries.
---
From eBay, Etsy, and Amazon
See more horse tapestries on Etsy
See more horse tapestries on eBay
---
Horse Tapestry - Good Things To Know Before You Buy
How do you hang the tapestry? For example, does it have a "rod pocket" to slide a rod through for hanging? If so, is a rod (with or without finials) included? (A "finial" is the ornamental attachment at the ends of the rod.) If the tapestry isn't hung with a rod does the seller mention how it is hung?
Is any hardware included for hanging, or will you need to provide the items to hang it yourself?
How big is the tapestry (length and width)?
How heavy is it? Some tapestries are quite heavy while others are light. This could make a difference on how, and where, you can hang it.
How do you clean the tapestry? For example, can it be machine washed?
How soon will it ship? Some sellers ship within 24 hours, but others may not ship for several days. Read the description on each individual tapestry to find out when it will ship.
---
What Is Tapestry?
A tapestry is a piece of textile art. In other words, it is artwork on a piece of cloth or fabric.
Traditionally, tapestry was woven by hand and made from natural fibers (wool, linen, etc.). Currently, however, a tapestry can be made of natural natural or synthetic fibers and may or may not be woven by hand.
Below: Hand weaving a tapestry on a loom.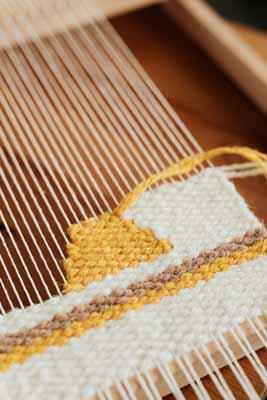 When creating a tapestry, the warp threads (the threads that run vertically) are hidden so that only the weft threads (the threads that run horizontally) can be seen in the finished tapestry.
---
Save The Tapestry For Later
If you find a horse tapestry for sale on Etsy that you like but you're not ready to purchase it right away, you can always add it to your shopping cart so it will be easy to find later.
In most cases, Etsy will keep track of your tapestry, and anything else in your shopping cart, for 30 days.
In the meantime, if you want to check out with other items you can click on "Save for later" to move specific items to a separate, but still easy-to-find list beneath your shopping cart.
Also, if you put items into your Etsy shopping cart but don't check out after 30 days, Etsy will automatically move your chandelier (or other items) to the "Save for later" area beneath your cart. When you're ready to actually purchase any of these items, simply click "Move to cart" to put them back into your shopping cart and check out.
Important: Putting items in your Etsy shopping cart or "Save for later" list does NOT reserve them! It just makes them easier to find if they're still available when you come back.
Below: Screenshot image showing the "Save for later" and "Remove" links when an item is in the Etsy shopping cart.
You Might Also Like...
Art
Bathroom
Car Mats
Ceiling Fans
Chairs
Chandeliers
Cowboy Night Light

Lighted steer head

Cowhide
Cow Skulls
Dry Erase Boards
Glass
Napkins
Office
Party Supplies
Rugs
Shower Curtains
Table
Tapestries
Wagon Wheels
Wall Decals
Wallpaper
Wedding