By guest author Charlyne Calisang at HorseFenceDirect.com
What Are Some Horse Fencing Options?
Horse Fencing Options: What to consider before installation.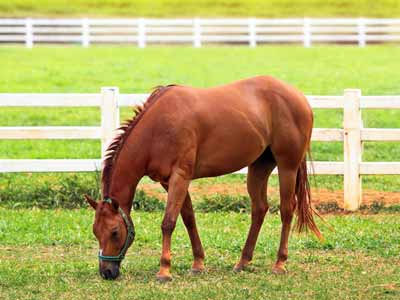 Horses are brilliant creatures. That means careful consideration must go into the fencing options for any property. You must find a balance between the need to protect them and the budget you have available for this project.
Some properties may face unique landscaping challenges where the type of fence you use depends on the available installation options.
Several different horse fencing options are available in the marketplace today, so evaluating the strengths and weaknesses of each choice can help you to decide which type will work for your property.
---
Best Fencing Options for Horses
You can choose from several different materials when installing a new fence for horses. All of them have the potential to work effectively, so the final decision needs to be about your approach to management and safety.
1. Wire fences are your most affordable option.
This fencing option can include bare, polymer, or barbed wire. You will use the latter option if you want to discourage the horses from leaning against the installation. The visibility of this selection is minimal, blending into the background with its rustic appearance. It provides a solid barrier at a low cost, with materials starting at $0.03 per foot for a single line.
The poor visibility can be an injury hazard to horses, so keeping your posts close together during the installation process is a best practice. 63% of reported fence injuries come from a wire-based barrier. Polymer fencing can also release upon impact or tangling, which might force you to chase down your loose animals.
2. Wooden fencing is a traditional approach to use.
The conventional approach to horse fencing is to use wooden posts, rails, and boards. Although any tree species can become a barrier, pine is the preferred option for its strength and splintering resistance. It will also add some value to your property since the installation cost for multiple rails can be up to $9 per foot.
It might be a stable horse fencing material, but wooden rails require ongoing maintenance. You must keep them sanded and sealed to resist the weather. Any splintered boards will need immediate replacement. Horses will break boards if spooked, so consider using a strand of hot wire with this option. Then keep the bottom rail at least 16 inches from the ground to facilitate wildlife movement.
---
3. Vinyl rail fencing is a low-maintenance alternative.
If the cost of a wooden horse fence doesn't meet the needs of your budget, then vinyl is an alternative material to consider. The price can be under $1 per foot while your property receives the same upgraded, traditional look that's aesthetically pleasing. You can choose from a variety of colors so that the new barrier matches the tone of your stable and outbuildings.
Vinyl doesn't require much maintenance since it comes from PVC, but it is not infinitely durable. The biggest issue for horses is that the rails can separate from the posts if the animal leans on the fence. Your installation will maximize its benefits at the recommended height of 54 to 60 inches above ground level.
4. HTP rail fencing might be your best choice.
High-tensile polymer (HTP) rail uses steel wires with a sturdy coating to create a safe horse fence that's reasonably affordable. It usually costs less than $1 per foot for a single rail, but you also receive the timeless look that adds ongoing value to your farm or ranch. It is virtually maintenance-free after installation, which can be highly beneficial for some people.
This fencing option comes in a variety of sizes and strengths, so you must choose a product that can adequately protect your horses.
5. Non-Climb horse fencing creates a solid barrier when needed.
If you have dogs or other animals that you don't want hassling your horses, then a non-climb fence is a desirable choice. It typically costs about $2 per foot, but that encompasses the entire height of the barrier. If you have significant fencing to install, this choice tends to be one of the cheapest designs available.
This barrier option forms from a wire mesh that you run along with a series of fence posts. You'll create a clean appearance that prevents animal movements, but it does require annual maintenance to eliminate the risk of gaps forming. It is not well-suited for land that isn't flat, but the horses don't paw at the materials much either.
6. Electric tape, braids, or wire can stop horses from leaning.
You can choose to install electric tape or wire for your horses so that they learn where the barriers are to their pasture and outdoor areas. This choice works with most other fencing options so that you can prevent leaning behaviors that reduce the lifespan of the installation.
The cost is about $0.25 per foot for a single line of tape, braiding, or wire. It creates a clean line that doesn't reduce visibility, but thicker products could be susceptible to wind damage. If you operate a hot fence, then you'll also see a small boost in your monthly utility bill.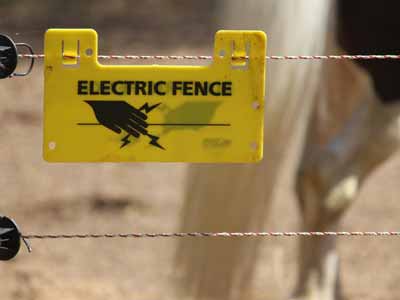 ---
What Horse Fencing Options Are Right for Your Property?
Each property is a little different with its needs, so it is essential to review the strengths and weaknesses of each choice.
When you take the time to install a high-quality barrier for your horses, you will protect them while potentially increasing the value of your property.
When your fencing design makes it easier to manage your horses, remove manure, and care for their footing, you can maintain your property effectively. This approach will reduce the risk of damage to the barrier while it maximizes your investment.
This article was contributed by guest author Charlyne Calisang and is being used with permission.
About The Author
Charlyne Calisang works as a content specialist at Horse Fence Direct and is a pet owner.