What Is A Spur Ledge?
On cowboy boots, a spur ledge is a small protrusion at the back of a boot heel. A spur ledge creates place for a spur to rest when it's strapped onto a boot.
Below: The blue arrow is pointing to the spur ledge on a cowboy boot.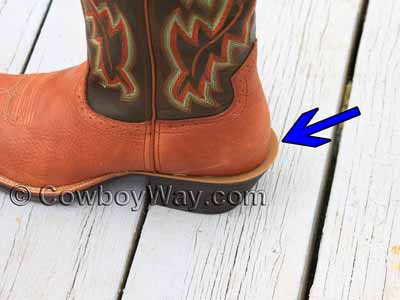 Not all cowboy boots have a spur ledge. Then again, not all cowboy boots need one. If a pair of cowboy boots is made for the main purpose of fashion or walking, it's likely the boots don't need a spur ledge.
---
You might like these items. Or, Article continues below.
---
However, cowboy boots made for cowboys, cowgirls, or anyone else that rides a horse often benefit from a spur ledge. Without one, the band of the spur is more likely to slide down the boot heel. At best, this makes the spur out of position and more difficult to use properly. At worst, the spur can slip down so far that it slides off the boot entirely.
Below: A cowboy boot without a spur ledge. Notice that the spur has slid down out of position.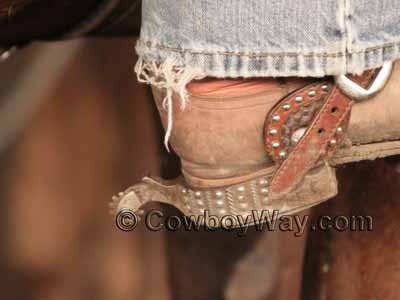 Not all spur ledges are created equal. Depending on the make of the cowboy boots, spur ledges vary in width from wide to very narrow. For people that wear spurs when they ride, boots with a sufficient spur ledge can make a big difference in keeping their spurs in proper position.