By guest author DoubleDTrailers.com.
What Are The 10 Best 3-Horse Trailers With Living Quarters In The USA And Canada?
It is no news that traveling with your horses is definitely a strenuous task. It requires proper planning and careful execution at the same time. Anyone who has traveled with horses previously would already have an idea about the same.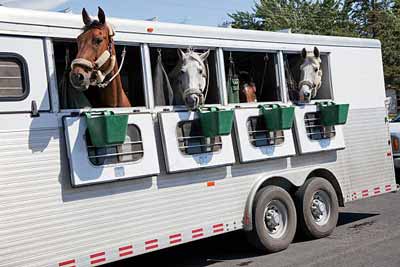 The very first step of this entire travel plan must begin with choosing the right horse trailer. Finding the right horse trailer can be a challenging task if you do not have the proper knowledge and an idea about what would be suitable for your needs and plans.
Although, with advice from the experts and knowledge about the best options in the market, you can find the right horse trailer. In this article, you will find a list of the 10 best 3-horse trailers available in the USA and Canada right now.
Carefully handpicked for different kinds of needs, these horse trailers are suitable for various travel plans and lifestyles. Let's check out the best 3 horse trailers that you can choose for your next travel plan.
For the adventure lovers, the wanderers, and the people who want to explore the countryside with their horses, here's the best you can get for yourself and your horses.
---
1. Double D Trailers
Based out of North Carolina, Double D Trailers is undoubtedly the number one manufacturer and supplier of horse trailers in the USA and Canada. The brand is known for its vast portfolio of high-quality and custom-designed products that can simply serve any horse transportation requirement. From the basic 1 and 2-horse trailers to an exquisite and durable 3 horse trailer with living quarters, they have a variety of options available.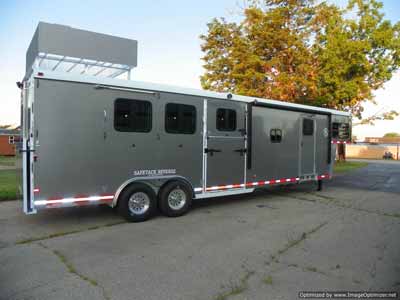 The horse trailers are from Double D Trailers and designed and built to offer maximum convenience and comfort along with excellent durability and utility. The 3 horse trailer with living quarters fulfills the needs of the horse and its owner, with an optimal design and valuable amenities.
The trailer is designed to ensure the safe and seamless loading and unloading of your horses. The loading and unloading stand to be a key part of the process which can be conveniently executed with the high-end horse trailers from the brand.
While being known for the superior quality of customer services, the brand also offers a number of other benefits to its customers. Let us look at the key USPs of the brand and why it is considered the best for horse trailers with living quarters in the USA and Canada.
Seamless customer services where you do not have to do anything or even leave your home to purchase one of their horse trailers.
Value for money products with reliable build quality coming at affordable prices.
A wide variety of horse trailer options including custom-designed 2 or 3 horse trailers with living quarters, bumper pull trailers, gooseneck trailers, and a lot more.
Offers great safety and security for your horses, along with superior comfort and convenience for the travelers.
Nationwide warranty on all their horse trailer models.
Along with the above points, their horse trailers are truly state-of-the-art, built on modern architecture. Based on the model you choose, your horse trailer will come with most of the following features:
Vinyl-wrapped cabinets for superior comfort and aesthetics.
Advanced fiber composite safe bump roof system to ensure complete leak prevention.
Galvalite Skin.
Z-frame technology.
Great flexibility in terms of new upgrades.
A wide range of orientation options for all kinds of horse transportation needs.
Rear safety dividers.
For campers, adventure enthusiasts, and people who are willing to explore the countryside without having to worry about the safety of their horses, 3 horse trailers with living quarters from Double D Trailers are indeed the best choice.
---
2. Cimarron
Cimarron is another top-rated horse trailer brand in the USA. The brand's motto enumerates three things: reputation, innovation, and constant evolution. The brand offers a wide range of horse trailers with and without living quarters. The brand provides lightweight and durable 3 horse aluminum trailers with living quarters.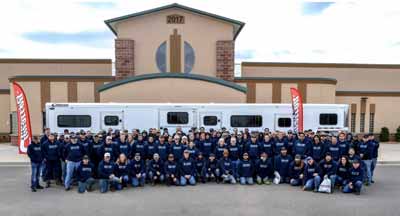 They also manufacture other livestock trailers along with horse trailers. Cimarron is known for its excellent build quality and highly convenient designs. Provided you maintain the trailer well, they are likely to last long and serve your horse transportation needs efficiently.
Cimarron's "Norstar" range of horse trailers is the most popular in the market. These trailers come in a wide variety of options and capacities, ranging from 2-8 horse trailers. These can be anything: slant or straight load or gooseneck as well as bumper pull varieties.
The Norstar horse trailers are safe, durable, and highly convenient for horse transportation. The unique styling and aesthetic appeal of the trailers are a bonus for the buyers!
3. Kingstar Trailers
A relatively new brand in the market, founded in 2018, Kingstar Trailers offers a variety of horse trailers. Their portfolio consists of 2 or 3 horse trailers with living quarters that are available in gooseneck and bumper-pulled configurations.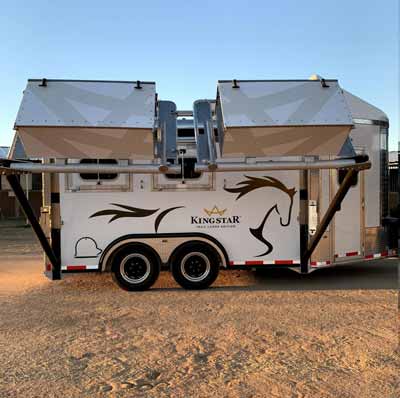 The brand aims to offer horse trailers that can cater to the necessities of the horse owners as well as their horses. The brand includes some imaginative plan highlights including proficient corral and roughage development.
Kingstar Trailers offer modern and state-of-the-art horse trailers which also get some advanced upgrades like creatively programmed watering frameworks for horses. They also come with advanced and upgraded hydraulic frameworks.
Along with advanced design and upgrades, the horse trailers are highly customizable enabling buyers to customize different aspects of the interior designs. From the USB outlets to LED lights, cap racks, mirrors and a lot more are all customizable as per the requirements of the buyers.
---
4. 4-Star Trailers
Another reputed manufacturer of horse trailers in the US, 4-Star Trailers is based in Oklahoma City. The key USP of the brand is that every horse trailer they provide is custom-designed as per the customer's requirements.
4-Star Trailers manufactures horse trailers of all kinds and sizes including 3 horse trailers with living quarters, which are also customized as per the needs of the buyers. Amongst other key highlights of the brand's horse trailers is its signature "WERM" flooring sealant, that the brand uses in all its models.
This makes the trailers highly tensile and long-lasting, while also making them easily cleanable. Unlike wood or aluminum flooring, you will not need to replace them after long-term usage. Not just that, the brand offers an incredible 100+ floor plan options which include the option of adding living quarters if needed.
4-Star Trailers is a trusted brand for 3 horse trailers with the option of adding living quarters. Both gooseneck and bumper-pull configurations are available. The National Barrel Horse Association also recognizes 4-Star Trailer as their official trailer sponsor.
---
5. Featherlite Inc.
The horse trailer brand that can come close to the best, Double D Trailers, right now, is indeed Featherlite. The brand has been manufacturing and selling horse trailers for almost 45 years now. Featherlite primarily offers all-aluminum horse trailers that are highly customizable and can fit all kinds of travel needs and the requirements of the horse owners and the horses' lifestyles.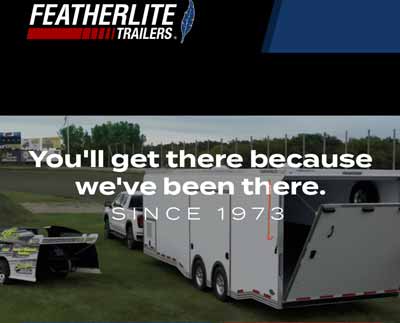 The brand is known for its versatility and flexibility when it comes to horse trailers. From 1 horse trailer to 3 horse trailers with living quarters or even the life-sized 8-horse trailers, they offer it all. The horse trailers come in a variety of configurations including bumper pull, gooseneck, and living quarters, with complete or semi-custom designs.
The key USPs of the brand are the convenience, comfort, and customizability they offer to serve all kinds of needs of you and your horses. The trailers are also optimized and designed to offer superior safety. The key features of Featherlite's trailers include:
Cushioned rubber mats
Slam latch dividers
Drop-down feeding doors for ventilation
Durable aluminum construction
Aesthetic and aerodynamic designs
Built-to-last quality
The horse trailers from Featherlite Inc. are designed to offer secure, seamless, and fuel-efficient rides to the equestrians.
---
6. Merhow Trailers
Merhow Trailers is one of the long-established horse trailer brands in the US. They are based out of Michigan and have been operating in the horse trailer industry for over 60 years. Merhow Trailers manufactures all-aluminum horse trailers at the same facility.
The brand offers a wide variety of products which include customized 3 horse trailers with living quarters. All their services including sales, warranty, and after-sales support can be accessed from the same point of contact. They are also known for long-lasting and high-quality products.
You get horse trailers of all sizes and configurations, and the option to add living quarters. The horse trailers come in gooseneck and bumper-pull designs with other customizable options.
---
7. Hawk Trailers, LLC
A reputed brand manufacturing and selling horse trailers in the USA and Canada, Hawk Trailers LLC offers a vast portfolio of trailers for the unique needs of equestrians. The brand is located in Manawa, Wisconsin. Hawk Trailers focus completely on horse trailers and not any other kind of livestock or other trailers, making them a trusted specialist in the field.
They offer a wide variety of horse trailers in all sizes and configurations. Their 3 horse trailers come in both gooseneck and bumper-pull configurations, with the option of adding living quarters as well.
The brand is known for its superior build quality, with all its trailers coming with a galvanized steel frame that offers excellent safety, security, and durability. They also offer a wide range of customization options aimed to offer comfort to the horses as well as optimum convenience for the horse owners.
---
8. Sundowner Trailer
Sundowner Trailer is a very popular horse trailer brand located in Coleman, Oklahoma. They are also known as "America's trailer since 1976" while being an official AQHA trailer brand. Sundowner Trailers manufactures high-quality aluminum horse trailers that are all completely customized as per the needs of the buyers.

The brand offers 10 gooseneck trailers and 8 different bumper pull trailers. From 1, 2, and 3 horse trailers with living quarters or without, the brand offers models that can even carry as many as 10 horses at a time. All these trailers are customized and built according to the specific needs of the customer and all of them come with an incredible 8-year structural warranty.
---
9. Logan Coach
Based out of Nibley, Utah, Logan Coach is another renowned horse trailer brand offering bumper pull and gooseneck trailers of different sizes. Their trailers are suitable to carry horses of all sizes. They have specialized 3 horse trailers with living quarters that can be perfect to carry even warmblood horses, which are generally larger than the others.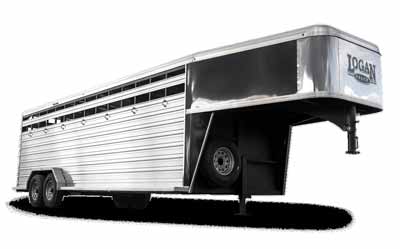 The brand also employs a patent-pending flooring technology in all its trailers. The Vortex sprayed-on rubber coating offers longevity to the aluminum. The brand also adds a Sure-Grip layer on top of the flooring for added cushioning and slip prevention.
---
10. Hart Trailers
Hart Trailers is a family-operated business located in Chickasha, Oklahoma. The relatively small brand on this list of stalwarts successfully offers a variety of high-quality horse trailers for its customers. The trailers are all custom-designed and come in all sizes and configurations.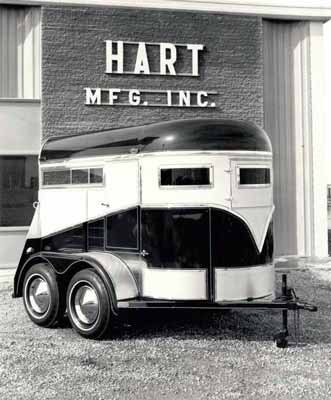 The 3 horse trailers from the brand come with an option of adding living quarters as well and can be specifically designed and built to meet the needs of each customer. Both bumper-pull and gooseneck options are available and all the trailers have superior structural integrity.
Generally known to be weighing a little more than most other trailers, the weight is primarily due to a heavy build meant to withstand the wear and tear of regular horse transportation.
---
Ending Note
Who doesn't love heading out to the countryside and exploring the vast stretches of land? For an equestrian and adventure enthusiast, finding the right horse trailer is a key concern. If you need a 3 horse trailer with living quarters that serves your needs, and lifestyle and fits your budget, then you will find the perfect one in the above list of brands and their specialized products! Happy riding, after you get that perfect trailer for yourself and your horses!
This article was contributed by guest author DoubleDTrailers.com and is being used with permission.
About The Author
Since 1997, Double D Trailers has been producing quality horse trailers for sale. Using the latest equipment and technology, their craftsmen can construct your new trailer to fit your specific needs and offer you low fixed rate financing incentives on all horse trailer sales. Nationwide delivery is available on horse trailers.
[2Page1.htm]