By guest author DoubleDTrailers.com.
What Is A Slant Load Horse Trailer? A Complete Guide
Transporting your horses is no doubt a very tough task. You need to take proper care of those animals as while traveling they may encounter any life-threatening situations. For the best care possible, it is crucial to opt for a comfortable and spacious horse trailer to carry your friends whenever required. It is really a matter of great importance to comfortably carry the animals to the desired destination. International events such as the Olympics, where the teams need to carry their horses to the venue has been a matter of serious discussion.
---
To ensure that your horses get the best ride possible, you can opt for slant load horse trailers featuring Safetrack. Slant load is a certain type of trailer that has stalls that are angled from the side wall to the side wall instead of front to back. This revolutionary design of slant load trailer was introduced in the 1980s, and since then, many people have loved slant load horse trailers for their horses.
This slant-load horse trailer is able to carry multiple horses in a shorter trailer. This is possible because horses being hauled stood at a specific angle with their heads toward the trailer's side.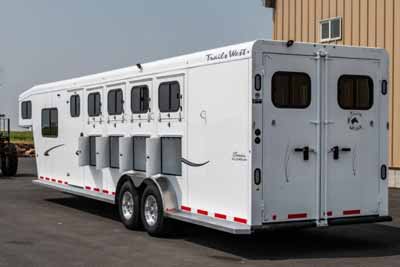 Slant load horse trailers tend to be wider in size and more inviting for the horse; this means they are easier for difficult loaders. Naturally, horses will stand at a certain angle in a moving trailer. This indicates that slant load trailers are much more comfortable for your horses than other types of horse trailers.
Let us go through the benefits of a slant load horse trailer.
---
Benefits Of A Slant Load Horse Trailer
There are many reasons to opt for a slant-load horse trailer. A few of those are:
1. It is adjustable
Slant loads are built with a warmblood stall or a standard stall. It is also easier to remove the dividers, such as when you need to transport a are and foal.
2. It is better for larger vehicles
The main reason for selecting slant load trailers was to fit more horses in a much larger vehicle. Hence, if you are thinking of hauling four or more horses, you can think about getting a slant load trailer, as this trailer is shorter in size and easier to maneuver.
A trailer that is easier to drive is better for you and also for those horses who do not like being thrown around in the horse trailer because of tight turns.
3. You can enjoy faster unloading time
It is much easier to unload all of your four-legged friends fast with a slant-load horse trailer. This trailer is more convenient if you need to ride more than just one horse.
4. You should unload horses head first
You can unload the heads of your horses first instead of backing them off. Horses are more likely to trip while backing off a step or down a ramp. Also, there are some horses that really do not prefer backing off a trailer.
5. It is a less stressful option for your horse
Generally, horses stand at an angle in a moving vehicle; thus, you can say that slant load trailers are a more comfortable ride for your horses.
6. It is a wider option
Slant-load horse trailers are usually wider in size and more appealing to the horses, which shows that slant load horse trailers are a more comfortable option for your horses.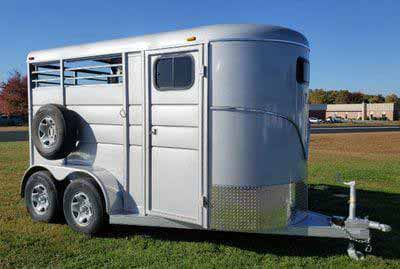 ---
How To Load Horses On A Slant-Load Horse Trailer?
In the case of slant load trailers, a single horse needs to go in the front for proper balance and a smoother ride. If you have multiple horses, the larger ones need to go towards the front.
---
All About Double D Trailers Slant Load Horse Trailers Featuring Safetack
At Double D Trailers, the safety of your horses is the top priority. Thus, you can always trust slant load horse trailers with Safetack technology, which can make the procedures like loading, unloading, and transporting safe for all parties involved.The Slant load horse trailers featuring Safetack manufactured by Double D Trailers come in both bumper pull trailer and gooseneck trailer varieties.
Though there are many slant-load horse trailers that use traditional rear-track design, this can create problems for you and your horses. This rear track design can create a very narrow door opening for your precious horses. This can complicate the procedure of loading and unloading horses to a great extent.
It can create a safety hazard for you, also. You could easily get injuries when trying to walk into the slant load horse trailer with your horses. Thus, the Slant load horse trailers featuring Safetack offered by Double D Trailers help you to make sure that you can load your horses easily while reducing the of injury to you.
Enjoy a safer and larger loading doorway with slant load horse trailers featuring Safetack
If you are looking for the answer to the question "which horse trailer do you think your horses would rather load into?", then the result will be the slant load horse trailers featuring Safetack offered by Double D Trailers. The extra wide entryway of this trailer offers a safe space for both the handler and the horses to pass through.
After the horses have been secured, the handler can easily walk out of the rear camp. In addition to this, an extra rear divider is equal to less danger of having an anxious horse try to get off or being kicked by a horse before you are prepared.
---
Above - Left: A reat tack storage blocks teh opening on a conventional slat load trailer - leaving a dangerous narrow loading door.
Above - Right: Our SafeTack compartment swings open completely, allowing for a full-width door for easier and safer loading.
The extra divider can ensure that your horses do not back out on you. Most of these slant load trailers have just two dividers, and hence, it is easy to know that when you open up the rear doors, the last horse may try to back out after a tiring trip. Butt straps can cut the horses, but bars can be really dangerous. This new Safetack feature offers an extra divider that enables you to enjoy complete safety while opening up both the rear doors and preventing your horses from coming out.
With the help of this Slant load horse trailer featuring safetack, you can walk in or out.
Almost all bumper pull slant load horse trailers come with a dressing room in the front. This new slant load horse trailer featuring Safetack comes with a dressing room in the front area for storage, along with the rear safetack saddle compartment.
The slant-load horse trailers offered by Double D Trailers can remain well-balanced even after fully loaded. Even when loaded fully, this safetack trailer will open with ease and even latch, enabling you to access all of your gear and tach conveniently.
---
All About Double D Trailers 3 Horse Slant Trailer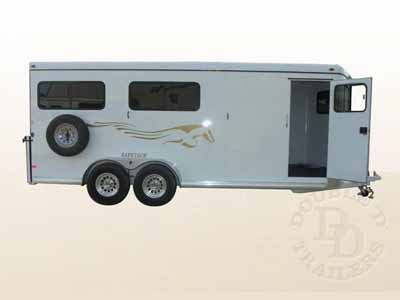 When you need to transport at least three horses, the width of a common horse trailer makes the task of loading really difficult. Whether you have purchased a third horse recently or you are thinking about taking all your favorite three horses on the trail, a 3-horse slant trailer manufactured by Double D Trailers makes transportation safer and easier for everyone. Not only can you have extra space for your horses in this slant load trailer, but it is also less scary for your horses.
Double D Trailers care about the comfort as well as the safety of your four-legged friends. Thus, Double D Trailers come with Slant load horse trailers featuring Safetack, with a well-balanced saddle compartment that can contain your saddles as well as halter and gears easily.
If you need something to grab from inside the trailer, there is an extra divider that can prevent the horses from unloading themselves.
As the tack is stored safely away in a spacious swinging compartment, you can open the back part of your trailer with just some easy movements. You can get wider areas for loading and unloading that are safe for you and your horses. In order to ensure the perfect safety of your precious horses, this 3 -horse slant load trailer model comes with amazing Safekick Wall Systems and SafeBumpRoof.
With the help of the Z-frame technology, created from a lightweight, tough zinc alloy, pulling is a breeze. You don't need an extra-large pickup to haul the horses, as most trailers of Double D Trailers pull easily behind a truck of just half a ton.
If you are planning to upgrade the flooring of your slant load horse trailer or add living quarters, you can contact Double D Trailers for the best service possible. The basic slant load horse trailers of Double D Trailers are 18 feet long, along with an additional 7 ½ foot space over the truck that you can use as storage or a sleeping area.
Even if you are concerned about the budget of your slant load horse trailer, you can go for the slant load horse trailers featuring Safetack offered by Double D Trailers to offer the utmost comfort and safety to your four-legged friend at a very reasonable price. Moreover, as in a slant load horse trailer, the horses need to stand next to each other while facing the front of the trailer; a lot of space can be created, which you can use as a storage area with ease.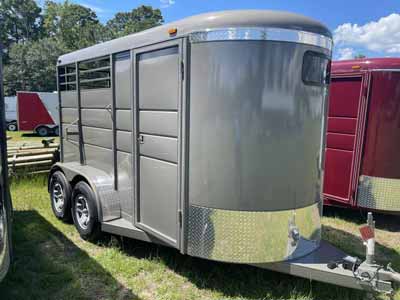 ---
To conclude
Though the task of choosing a good horse trailer depends on the personal needs and preferences of the horse owner, selecting the slant load horse trailers featuring Safetack is a great option if you wish to give your horses the utmost comfort, along with proper safety. Thus, you can always choose the comfortable, durable, lightweight, and spacious slant load horse trailers manufactured and offered by one of the reliable and famous horse-trailer providers, known as Double D Trailers.
This article was contributed by guest author DoubleDTrailers.com and is being used with permission.
About The Author
Since 1997, Double D Trailers has been producing quality horse trailers for sale. Using the latest equipment and technology, their craftsmen can construct your new trailer to fit your specific needs and offer you low fixed rate financing incentives on all horse trailer sales. Nationwide delivery is available on horse trailers.