Number Of Horses In The USA By Breed
Below is a graph representing the number of horses in the United States of America broken down into three large breed categories: Thoroughbreds, Quarters Horses, and Other.
As you can see in the chart, there are over 1 million Thoroughbreds, over 3 million Quarter Horses, and over 4.5 million horses in the "Other" category. While we find the information interesting, we also find it curious that the "Other" category wasn't broken down into smaller breed segments.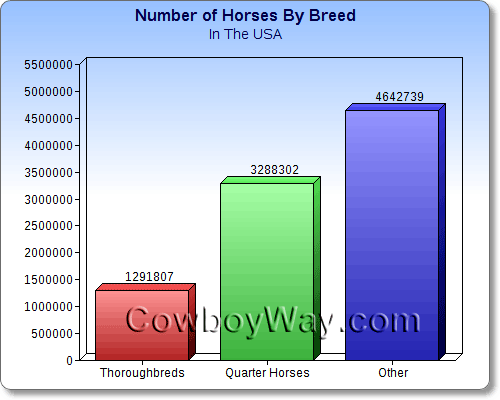 Interesting Charts and Graphs With Horse Information
Source for the above graph and other information:
http://www.bloodhorse.com/pdf/nationalsummary_v8.pdf
---
---
What Is / Are...
You Might Also Like