Cowboy Scarf Slides For Sale
Below are cowboy scarf slides for sale. A "cowboy scarf" is usually called a wild rag.
Many of the scarf slides below are appropriate for wild rags worn by working cowboys, cowboy re-enactors, or cowboy mounted shooters.
Below: A cowboy scarf slide.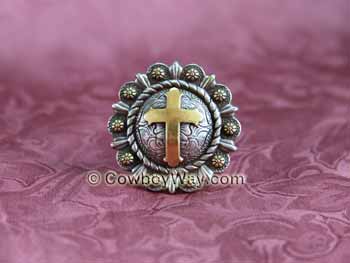 From eBay, Etsy, and Amazon
See more cowboy scarf slides on eBay
Cowboy Scarf Slide Savvy
Is the scarf slide new or used?
How big is the scarf slide? How big is the opening for the scarf? While some sellers give the measurements for the opening that the scarf slides through, a lot of them don't. If you're looking at a scarf slide and the size of the opening for the scarf isn't mentioned, at least make sure there is a good photo of the back of the slide so you know how big, and what type, of opening it has. If in doubt, always ask the seller any questions you may have before you bid or buy.
Make sure it's a scarf

slide

, and not a scarf

pin

.
How much will shipping be? How soon will the item be shipped? Is shipping insurance optional or required, and who pays for it?
What forms of payment does the seller accept? Always read all payment terms listed by the seller.
Photos Of Cowboy Scarf Slides
This is a side view of the same scarf slide shown at the top of this page. Notice the tape around the back. If the opening of a scarf slide is too big for your wild rag, you can add a little bit of tape to the back to make the opening smaller. Be sure to use tape that won't leave a stain or sticky residue on your wild rag. We like to use Self-Fusing Silicone Rescue Tape (1", Clear).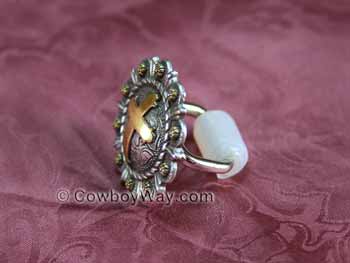 This is a beautiful horse hair scarf slide. This style, with the center hole, is a nice, once-size-fits-most design. You can simply push the slide up the scarf until it's snug.
A pretty, stone-look scarf slide with pewter. See the next photo for the back of this slide.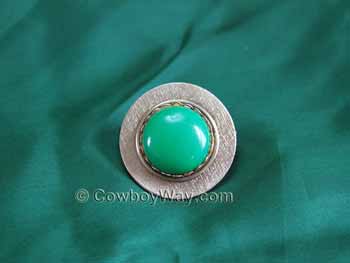 This is the back of the scarf slide shown above. The sides and center are hinged so the center can move up and down to open or close. This type of back often grips a wild rag very gently. For that reason, it may not hold tightly enough in active situations. If needed, you can add tape to the back like the scarf slide shown several photos above.