Western Messenger Bags
Below are messenger bags with Western art, photos, or designs for sale. A messenger bag is a type of versatile tote designed to carry......whatever you want to carry. They get their name from bicycle messengers in large cities who use this style of bag to carry the letters, documents, and small packages they deliver. Since a messenger is also called a courier, messenger bags are also sometimes also called courier bags. For more information about messenger bags, please scroll down beneath the bags for sale.
Below: A messenger bag with Western styling from Zazzle.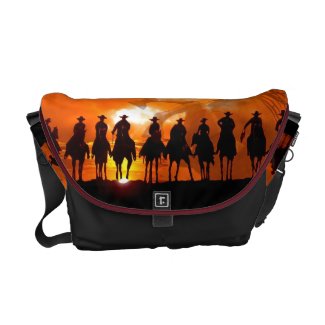 Cowboy Western Rickshaw Horse Saddle Bag
by
ScenicEarthStudios
---
From Zazzle
See more cowboy / Western messenger bags on Zazzle
---
From Amazon
See more Western messenger bags on Amazon
---
From eBay
See cowboy / Western messenger bags on eBay
---
What Is A Messenger Bag?
Like we said at the top of this page a messenger bag is a type of versatile tote bag designed to carry pretty much anything you want to carry. They come in a wide variety of looks and styles, but are usually characterized by a long strap that is worn over the same shoulder the messenger bag is carried on, or passed over the head for cross-body carry. They may or may not also have shorter carry handles, like a briefcase.
Messenger bags are a unisex bag carried by both men and women, although some bags are more feminine or masculine in appearance.
---
What Is Zazzle?
Zazzle is a company that offers a way for artists, photographers, and designers to showcase their unique and beautiful creations on a wide variety of items.
Zazzle itself takes care of receiving and processing all orders, and customer support.
Zazzle is known for their lightning-fast order processing and shipment.
Many of the items on Zazzle can be personalized by the customer! Just look for personalization / customization options when you place your order.
Zazzle has a friendly return policy, even for customized orders. You can see their return policy here. Want to know what others think? You can see Zazzle testimonials here.
---
From Zazzle: You Might Also Like...
Auto / Truck
Banners
Business Cards
Clothing / Apparel
Dry Erase Boards
Home
Miscellaneous
Office
Wedding
Link To This Page
If you found this page useful or interesing and would like to link to it from your own website or blog, you can use the small code snippet below to make a link. Thanks!
Use ctrl+C in Windows or command+C on a Mac to copy the link.
<a href=""></a>
---
Below: Like and share this page on Facebook!