Horsemanship Shirts
The right horsemanship shirt helps you look and feel your best in the Western show ring.
---
---
A "horsemanship shirt" is also called a horse show shirt, rail shirt, or showmanship shirt, and is meant to be eye-catching and attractive. Below are horsemanship shirts for sale on in a variety of sizes and styles. For good information to know before buying a horsemanship shirt, please scroll down beneath the shirts for sale.
Below: A black and white horsemanship shirt with colored accents.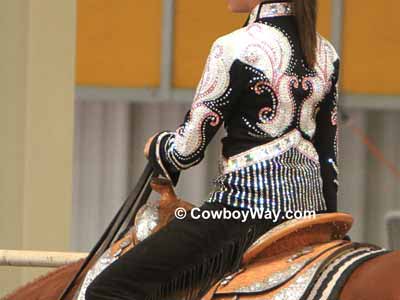 ---
From eBay and Etsy
eBay, Etsy and Amazon are all great places to find horsemanship shirts. This area lets you compare the prices and selection between them all on one page!
Read each description carefully to know if...
...you're buying an already-made, ready to ship shirt, OR
...if you're buying a horsemanship shirt that will be made according to your custom options after you place your order.
See more horsemanship shirts on eBay
See more horsemanship shirts on Etsy
---
Horsemanship Shirts - Good Things To Know Before You Buy
Is the shirt new or used? On Amazon we've found that most of the shirts are new, but you can also occasionally, on Amazon, you find ones that are used. eBay's selection is typically a mix of new and used. Etsy? We've mostly seen new horsemanship shirts, or new ones made to your custom options, and, once in a while, a used one.
What size is the shirt? In addition to the size, does the seller give you more specific measurements for the shoulders, bust, sleeves, etc.? Most horsemanship shirts are designed to be at least somewhat fitted, so specific measurements can be helpful.
Below: A colorful horsemanship shirt.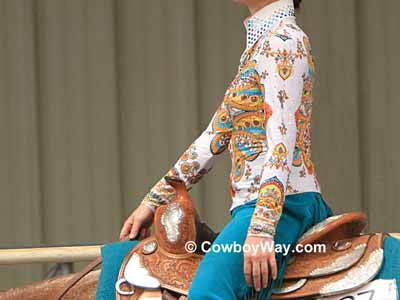 What is the availability of the shirt? Availability means how long it will be from the time you purchase the shirt until it is shipped. Most of the already-made ones we've seen ship in 1-2 business days, but it never hurts to make sure. If you're having a shirt made after you place your order be sure you know how long it will take the seller to make it and then ship it.
Is the shirt meant to be worn tucked in, un-tucked, or (for some shirts) either? Will this make a difference in how you plan to wear the shirt, or what you plan on wearing it with?
Most horsemanship shirts are purchased to be part of an overall ensemble, so it's good to be aware that the colors in the shirt you see on your screen may differ slightly from the actual colors in the shirt. This is because monitors may vary in how they display colors. Try to make sure the colors in the shirt look like they will go well with the other items you plan on using it with (hat, jeans, chaps, saddle pads, boots, etc.), even if there might be a slight variance in the colors once the shirt arrives.
Does the seller accept returns? Many times, with horsemanship shirts, the seller does not accept returns! All sellers are different, of course, so be sure to check for sure.
Below: A horsemanship shirt in a youth size.
---
Save The Shirt For Later
If you find a horsemanship shirt on Amazon you like but you're not ready to purchase it right away, you can always add it to your shopping cart so it will be easy to find later. Here's a little more info:
In most cases, Amazon will keep track of your shirt, or anything else in your shopping cart, for 90 days.
Later on, if you decide you don't want the item(s) after all, it's easy to click "delete" and remove them from your cart.
In the meantime, if you want to check out with other items, click "Save for later" to move the shirt to a separate, but still easy-to-find list beneath your shopping cart.
Important: Putting a horsemanship shirt or anything else in your Amazon shopping cart or "Save for later" list does NOT reserve the item(s)! It just makes them easier to find if they're still in stock when you come back.
Below: Screenshot image showing the "delete" and "Save for later" links when an item is in the Amazon shopping cart.

---
Pin it now!
---
---
---