How To Measure Your Horse's Girth
It's easy to measure your horse's girth (also called the "heart girth").
A horse's heart girth measurement can be helpful for several things including getting an estimate on the size of the cinch your horse will need, and for calculating an estimate of a horse's weight.
Measuring Heart Girth
To measure a horse's heart girth, measure from the base of the withers down to a couple of inches behind the horse's front legs, under the belly, then up the opposite side to where you started. Notice this will cause your tape measure to run at an angle as shown by the blue line in the photograph below.
The measurement you arrive at is your horse's heart girth.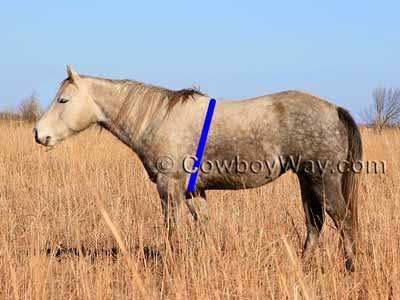 Why Measure Your Horse's Girth?
Like we said above, knowing how to measure your horse's girth can come in handy for several things, including:
---
---
How To...
You Might Also Like
Link To This Page
If you found this page useful or interesting and would like to link to it from your own website or blog, you can use the small code snippet below to make a link. Thanks!
Use ctrl+C in Windows or command+C on a Mac to copy the link.
<a href=""></a>