How To Make A Bridle Rack With Cans
A simple bridle rack made from empty tin cans is easy to make, and helps keep a nice shape to the crown of your bridles.
Below: A bridle rack made from empty tin cans.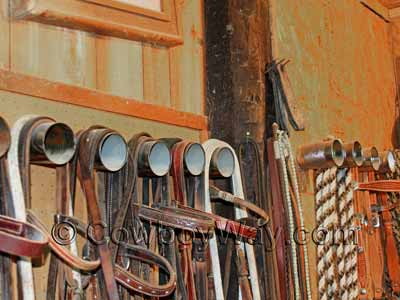 A standard sized tin can (the kind that holds approximately 15 or 16 ounces of food) has enough width and gentle curve to help the crown (or top) of your bridles retain a nice, open shape. Slightly larger cans, like the 20 ounce size, also work well.
On the other hand, a bridle rack with narrow hangers, like a skinny wooden peg, can misshape the crown so that it forms a point at the top.
---
How To Do It
Making a bridle rack out of cans is easy.
Begin by collecting several empty tin cans in good condition without any scratches (more about scratched tin cans under "Did You Know...?" at the bottom of this page).
Remove the labels and wash the cans so that no food (or other) residue remains, then dry them.
Hint: Resist the urge to paint your cans since paint can rub off onto your bridles, reins, halters, or whatever tack you hang on them.
Another Hint: Use any size cans you like for this project. The 15-16 ounce size, or slightly larger (like 20 ounces), usually work well.
Place the bottom of your tin can onto a sturdy wooden surface that will act as a base for your bridle rack. You can attach your cans directly to a wall, a board, or whatever you choose.
Now, using screws and a screwdriver, reach into the can and screw the bottom of the can to the wood surface. You'll probably want to use two screws for each can: One screw isn't a very secure mount and the can might wobble.
Below: The can on the right-hand side of the photo shows it was mounted with two screws. Also notice the can on the far left is slightly larger than the others, but still works well.
If you find that screwing in the screws is difficult, you can pre-drill the holes.
---
You're Done!
That's all there is to it! Mount as many tiny cans as you need and your bridle rack is complete. The cans provide a nice surface with enough width and curve that they'll help the crown of your bridles retain a nice shape.
The cans are also long enough that there's room to lay any reins or mecates attached to the bridles on them, too. This is nice because it keeps tack from hanging down where the puppy can chew on it, or where it can touch the ground.
An added bonus with this type of bridle rack is that the empty cans are handy to hold small items inside of them like a spare key, hoof pick, or those notes you made with cow ear tag numbers or directions to that new arena you're going to this weekend.
Note: Depending on the opener that opened the can, the inside lip of some tin cans might be sharp. Reach inside carefully.
Another Note: Tin cans that come with pull-tab tops that don't require a can opener often leave a nice, not-too-sharp edge.
On the downside, the inside of the empty cans can also collect dust or the occasional insect (dead or alive). However, if your tack area has a closed door to the main part of the barn this might not be an issue.
---
Did You Know...?
Did you know that "tin" cans aren't made of tin? Modern tin cans are (typically, anyway) made of steel covered with a thin layer of tin. This is commonly called "tinplate."
Since tin doesn't rust, but steel does, it's important to use tin cans for your bridle rack that don't have any scratches. If the scratch goes deep enough to go through the tinplate, that area of the can might rust, allowing rust to rub off onto your bridles or other tack.
---